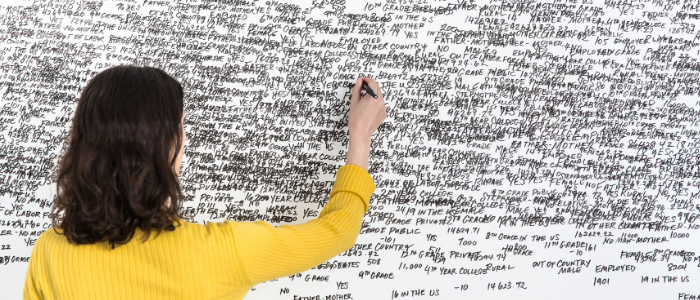 Last updated on July 27, 2022
How do your faculty and students conduct their research? What roadblocks hinder their success in teaching and learning? What services do they expect from their library? And how have their practices and perspectives shifted in light of massive disruptions to higher education over the last year?
Our local surveys provide critical information on how faculty, graduate and professional students, and undergraduate students approach their work, discover resources, and perceive the library. The surveys help libraries better understand the communities they serve and inform their strategic decision making.
Libraries use their results to:
Invest in technical infrastructure and staff to support data curation and publishing
Enhance the discovery of essential resources
Reshape their support for the first-year experience, international students, students struggling with basic needs, and student retention
Change collecting and de-accessioning policies
Advocate for resources at the institutional level
Shape new learning spaces for students
Collaborate on cross-institutional initiatives
Identify particular groups that need new, additional, or differentiated support and outreach
Contact us and we will:
Send you our prospectus about the local surveys program
Host a webinar or discussion about the program with key stakeholders in your library
Share the questionnaires for you to review
What the surveys cover
Each survey includes a core questionnaire tailored to the population you choose to survey. This provides for easy comparability between institutions should you wish to share your results with peers. For the local faculty survey, institutions will be able to compare results directly with our US Faculty Survey 2021 findings.
You can also choose additional modules from the menu below or work with us to create your own.
The local faculty survey
The local faculty survey instrument is aligned with our US Faculty Survey which has been fielded on a triennial basis since 2000. With each cycle, we have refreshed the survey instrument to ensure it maintains its relevance. Our most recent cycle, fielded in fall 2021, tracked trends from previous survey cycles and also introduced new items and questions to keep up with areas of emerging importance. Some of the new areas of coverage include questions on instructional support, equitable and holistic teaching practices, perspectives on scholarly outputs and open access models, and capacity and evaluation.
Faculty surveys
Core questionnaire
Discovery and access
Research practices
Scholarly communication
Teaching practices and student skills
The role of the library
Optional modules
Graduate instruction
Library market research
Library space planning
Material types and formats
Online learning
Research topics and practices
Scholarly societies
Serving clinicians and health scientists
Serving scientists and STEM-field researchers
Undergraduate instruction
Graduate/professional student surveys
Core questionnaire
Academics, coursework, and information practices
The role of the library
Library space planning
Optional modules
Basic needs
Career goals
Higher education objectives
International student experiences
Research practices
STEM research practices
Teaching practices
Undergraduate surveys
Core questionnaire
Academics, coursework, and information practices
The role of the library
Library space planning
Optional modules
Basic needs
Career goals
Extra- and co-curricular activities
Higher education objectives
Research practices
Survey fees and services
As part of the local surveys service, we provide:
Detailed implementation guidelines, including an onboarding webinar that outlines the process for fielding the surveys successfully
Guidance on best practices for the selection and configuration of optional modules and modifications to demographic questions
A hosted survey platform

Ithaka S+R can send all invitation and reminder emails on your behalf
The survey is branded with your institution's name, logo, and institutional colors
Invitation and reminder message templates can be customized to suit your institution and be signed by your designee

Survey monitoring, including weekly updates and guidance on how to boost response rates, increase awareness of the surveys at your institution, and determine when to close the survey
The full survey results

A non-analytical graphical and tabular report of your aggregate findings
The underlying survey dataset
Strategies that other participants have employed to incorporate the survey results into their campus communications and strategic plans
For the local faculty survey–an accompanying report of findings from the US Faculty Survey 2021 specific to your Carnegie classification
Fees
Our survey fees are based on the Carnegie Classification System. For institutions outside the US, we will determine with you which of these categories is the most appropriate. Institutions interested in running more than one survey during the same semester are eligible for a discount.
| | | | | |
| --- | --- | --- | --- | --- |
| | Baccalaureate/ Associates | Masters | Doctoral: Moderate & Higher Research | Doctoral: Highest Research |
| Fee | $5,000 | $7,000 | $7,500 | $8,000 |
The fee for two surveys is 1.5x the price of one survey
The fee for three surveys is 1.75x the price of one survey
Please note that the above fees assume a survey population of 15,000 invitees or less. There is a supplemental charge for inviting a greater number.
Additional services
Maximize your survey's impact. After the survey is completed, we can provide additional services to help put your results to greater use:
Stratification
We can create crosstabs that present findings by demographic characteristics such as by departmental affiliation, experience level, or field/major, allowing you to dig into sub-group analyses.
Analysis
Working with your leadership, and based on your current strategic plans, we can analyze your findings for your specific institutional context. This can include selected stratifications, correlations, and comparisons to national findings. We can provide:
A 10-15 page analytical memo
On-site  or virtual meetings, presentations, and/or workshops on the survey findings for librarians, faculty members, or senior leadership
Contact us about running the surveys at your institution: