Planning and Policy in Library Design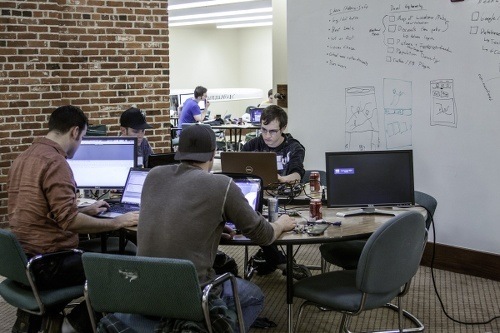 Earlier this year, Ithaka S+R worked with a team at the University of Nevada, Reno, to develop a better understanding of the kinds of group study facilities students need in order to work on collaborative projects and engage in other voluntary and assigned team-based activities. The objective of the project was to develop an understanding of how undergraduates do group work and the spaces and facilities that would be most helpful. Leaders at UNR's libraries planned to use the results to improve and possibly enlarge group study spaces. Our report, published today, provides details of the study.
When we began the project, we wondered what students were actually doing in their individual and group study sessions. We also wanted to ask specific questions about how they were using the spaces the library had already designated for group work, and the use they were making of screens, whiteboards, and other devices and furnishings that were installed to support collaboration.
We asked students around campus about their most recent study sessions, conducted interviews with students working in group spaces, and used a simple reply card to get a sense of student activities and space preferences in the library.
The students we polled in the library were by and large doing some form of schoolwork. About a third were doing general coursework, including reviewing material and preparing for quizzes. About a quarter were completing homework assignments. About a fifth of the students we polled were either socializing or taking a break. The rest were reading, using a computer, or doing other tasks associated with their academic work. In other words, at least four out of five students we polled were engaged in academic work when we intercepted them.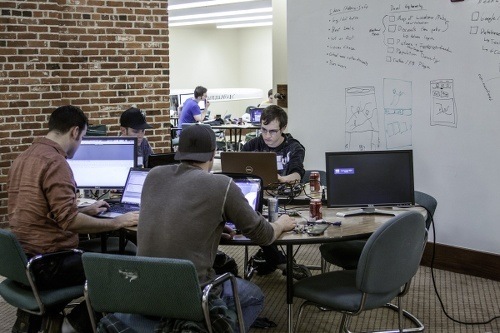 Students in the DeLeMare Science and Engineering Library, UNR. Photo by Nick Crowl.
Of these students, about half were sitting in groups. This is a large proportion and it suggests that students could easily fill many more group study rooms. However, most of these students were sitting together for company, not to work on a group project or even to study for the same test.
It is well worth the effort to design a space in a thoughtful way, finding out who will use the space for what purposes and discovering how they need to work in order to be successful. When architects base their designs on this kind of information they can do a much better job of creating spaces that are workable as well as aesthetically pleasing.
But there are other questions to ask. In the case of group study, as with so many design decisions, there are policy issues to consider before the architects head to the drafting table. Policy decisions, too, will lead to better outcomes if they are well informed.
When planning group study spaces, it is wise to ask what role the library wants to play in supporting the various kinds of work that students do when they sit with each other. The answer may depend on a variety of factors, including the mission of the institution, the proportion of commuters and residents, and what other sorts of space available around campus are suitable for meeting and working together. Library leaders may also want to consider the nature of their collections and whether library materials or equipment will be used by groups in their work. It may make sense to give priority to students whose work relies on something the library uniquely offers, but consideration may be given to the value of community and the possibility that the academic collaborations of college juniors and seniors may emerge from simply sitting together in the library as first-year students.
Decisions about group study, and about the many other initiatives a library could fund, will vary from one institution to another based on these and many other factors. The beauty of studying academic work practices is that the information we develop in these projects supports so many different decisions, and increases the likelihood that they will lead to improvement in academic outcomes.