Debt relief, streaming media, university consolidations, and the Google book project: Catch up on Ithaka S+R's latest initiatives
Dear Colleague:
"Expanding and continuing to provide financial aid is possibly the single best thing that colleges can do to support students as we move toward a new 'normal' this fall," noted a student in our recent blog series, Centering the Student Experience. Much of Ithaka S+R's current work focuses on affordability, the impact debt has on student outcomes, and strategies for institutions to find cost savings that better enable them to pursue their missions. As the fall semester–still marred by the COVID-19 pandemic–gets underway, I invite you to catch up on some of our recent reports and take a look ahead at projects that address the economics of higher education.
Sincerely,

Catharine B. Hill
Managing Director, Ithaka S+R
---
Many colleges and universities are using Higher Education Emergency Relief Funds (HEERF) to pay off unpaid student balances. This fall, we will collect and analyze data on this and other new debt forgiveness programs to understand their scope and potential impact–exploring the characteristics of students impacted by these programs, the variation in program design, the types and amounts of forgiven debts, the types of institutions employing these programs, and the potential impact on student outcomes.
Much attention has been paid to library efforts to control the rising costs of journal subscription packages (including by us). But libraries are encountering many costs besides journals that are less recognized or understood, including for streaming media resources. Libraries need data to assess the broader streaming landscape, and create new strategies for licensing and managing streaming use. To this end, we have just launched a new collaboration with a cohort of libraries to share evidence about and strategies around streaming media licensing terms.
Across American higher education, institutional consolidations are on the rise–often with a stated (though generally unrealized) goal of cost savings. Yet despite the high-profile nature of some recent consolidations, there is remarkably little in-depth analysis of their impact on equitable access to and success in higher education. Through case studies focused on Georgia, Texas, and Wisconsin and a summary report, we provide recommendations for conscientiously centering equity throughout the process and targeting and tracking the results for minoritized students.
The Google effect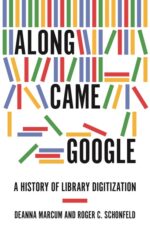 On September 21, our colleagues Deanna Marcum and Roger Schonfeld published a new book with Princeton University Press that examines the rise and fall of Google's ambitious project to scan the world's books and the implications it has had for libraries and the scholarly communications field. Roger talks about the book in this podcast.
---

Meet Raul Armenta (Teacher's College), Yuzhou Bai (Princeton University) Tangier Davis (University of Michigan), and Jeremiah Perez-Torres (CUNY Graduate Center)
For the past three summers, we have welcomed cohorts of interns to work with us on an array of projects. This year we invited our four interns to share their perspectives and reflect on how the experience might inform their future careers. You can read the full interview on our blog.
---
In the News
September 18, 2021
Education Matters: Host Karin Sconzert Talks Higher Education In Wisconsin With Roger Schonfeld Of Ithaka S+R
WGTD
September 9, 2021
Ithaka Surveys Community College Library Directors on Student Success Contributions, Collaborations
Lisa Peet
Library Journal
September 9, 2021
Charting Better Maps to Degrees
Paul Fain
Open Campus
September 1, 2021
The Edge: 'Where the Nation Is Headed' on Educational Attainment
Goldie Blumenstyk
The Chronicle of Higher Education
August 31, 2021
What Factors Should College Leaders Consider with Consolidations?
Jeremy Bauer-Wolf
Higher Ed Dive
August 20, 2021
Report: Stranded Credits' Inequitable Impact on Students
Sara Weissman
Inside Higher Ed
August 9, 2021
Participation with NC-SARA spurs some online enrollment growth, report says
Jeremy Bauer-Wolf
Higher Ed Dive
July 31, 2021
Behold, a different kind of student-debt cancellation
Jillian Berman
Market Watch
July 28, 2021
HBCUs Deploy Covid-19 Pandemic Funds to Forgive Millions in Student Debt
Melissa Korn
The Wall Street Journal
June 24, 2021
OPINION: Prison learning must be high quality and lead to a degree
Catharine B. Hill and Meagan Wilson
The Hechinger Report
June 23, 2021
Exclusive Survey: What Progress Have US Museums Made on Diversity, After a Year of Racial Reckoning?
Nancy Kenney
The Arts Newspaper