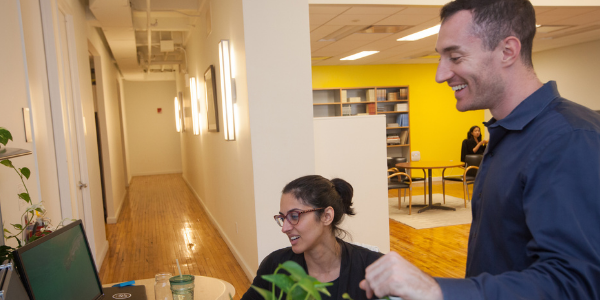 Ithaka S+R is hiring, and we invite you to apply for our open positions. Full job descriptions are available on our Careers site.
We currently have open positions on both our Libraries, Scholarly Communication, and Museums team and the Educational Transformation team.
Libraries, Scholarly Communication, and Museums
Libraries, Scholarly Communication, and Museums team members conduct major research projects and consult with academic libraries, scholarly publishers, software companies, learned societies, museums, and universities. We help these organizations better support scholarship, instruction, community engagement, and student success by empowering them to gather and to effectively utilize evidence that supports good strategic decision-making and service offerings. Examples of our current projects include major initiatives to support employee engagement, diversity, and anti-racism in museums, libraries, and other community organizations; cohort-based strategic collaborations to modernize collections and services; a program of work to support higher education for the incarcerated; and studies of organizational leadership.
We are currently looking for an Associate Director and two Senior Analysts.
Associate Director

The Associate Director leads one of the teams that comprise the Libraries, Scholarly Communication, and Museums program, with responsibility for intellectual direction, community engagement, project development and revenue generation, and overall team management. The team's current staffing level is five to seven FTE direct reports, and the Associate Director will have an opportunity over time to grow the size of the team and introduce additional management structure.
While the team's research agenda will evolve over time and be guided by the Associate Director, at this point the team is largely focused on Organizations and Talent, with key areas of emphasis including:
Talent management, employee demographics, and organizational diversity and equity (including an anti-racism talent management audit service);
Professions and professionals, including librarians, archivists, and museum employees;
Leadership and governance for organizations and collaborations;
Business models and organizational adaptation.
The Associate Director serves as a member of the LSCM program's leadership team, working collaboratively with the Director, the other Associate Director, our Senior Strategist, our Publications and Communications Lead, and our Strategic Collaborations Lead, to collectively steer its intellectual agenda, maximize the impact of its work, and develop its business. The pay range for this position is $110,000.00 – $145,000.00 per year.
Senior Analyst 
We are seeking a Senior Analyst within the Library and Scholarly Communications program.   Our growing team offers unique opportunities for your research skills and project management talent to play a vital role in helping the academic and cultural communities serve the public good and navigate economic, technological, and demographic change.
As our work on access to quality higher education in prisons continues to grow, this position also represents a unique opportunity to contribute to and expand our portfolio as a part of our strategic priority to provide equitable educational opportunities to marginalized groups. If you have a passion for how information and technology can make a demonstrated difference for marginalized learners, this role is for you. The pay range for this role is $60-70,000.
Senior Analyst
We are seeking a senior analyst with an emphasis on survey-based research projects and advisory engagements. The senior analyst will work collaboratively on research projects that lead to publications including grant-funded research and large-scale national surveys in the higher education sector. The senior analyst will also work on projects for individual colleges, universities, and other academic and cultural organizations, as well as organizations that serve their needs.
Through this work, the senior analyst will make major contributions to our programmatic work on talent management and organizational climate and culture, including DEIA and anti-racism, organizational structure, leadership, and strategy.
Responsibilities of this role include designing and administering institutional and large-scale surveys, analyzing quantitative and qualitative datasets, drafting reports and presentations, appending and cleaning datasets, and conducting desk research, with significant responsibility for high-quality, on-time completion. The pay range for this role is $60-70,000.
---
Educational Transformation
The Educational Transformation team's work is centered on student postsecondary access and success, with a particular focus on supporting Black, Latinx, lower-income, and other students who have long been underserved in higher education. Our cutting-edge projects include the American Talent Initiative, a collaborative initiative to increase socioeconomic diversity at high-graduation-rate colleges; mixed-methods evaluations of proactive student advising, effective college teaching, online and adaptive learning, and college leadership training; equity-focused research and solution-development in areas like student debt, community-college transfer, and higher education in prisons; and state and federal education policy analysis.
We are looking to fill two Analyst positions and two Researcher positions:
Analysts are early-career team-members who contribute to our projects by applying skills like data analysis, qualitative and quantitative research methodologies, secondary research, and project management. Candidates need not come to the role with all of these skills; but all successful candidates will be eager to learn, capable of working in a highly collaborative way with a diverse team, and inspired to improve outcomes and advance equity in higher education. The starting salary for the Analyst role is $55-65,000.
Researchers typically join our team with at least three years of experience in education-related research or policy work. They are responsible for managing large, complex research or consulting projects, including supervising team members working on those projects, and play a leadership role within their teams, helping their managers to develop the strategy and new work for the team. The starting salary for the Researcher role is $80-90,000. 
---
Although our headquarters are in New York City, these are remote positions and candidates can be located anywhere in the United States. We offer comprehensive and generous benefits, including a no-cost health insurance premium option, an employer-funded retirement plan, and a generous paid time off program for all benefits-eligible staff. Please see our Careers site for more information about working with us.