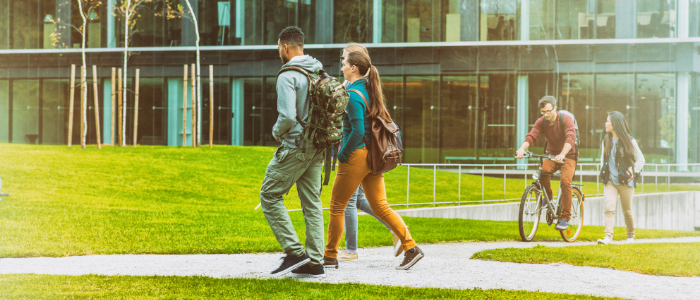 Last updated on December 2, 2022
The Transfer Pathways to the Liberal Arts initiative, funded by the Teagle Foundation and Arthur Vining Davis Foundations, provides funding to state and regional associations to pursue consortium-level pathways from community colleges to private liberal arts colleges. The project will support 20 state grantees in developing transfer initiatives to increase enrollment and completion of a bachelor's degree at independent institutions.
Ithaka S+R is serving as the independent evaluator for the foundations and is conducting a three-year mixed methods assessment of the initiative. Our work includes two main workstreams:
Quantitative Evaluation 
Baseline reports. We have contracted with the National Student Clearinghouse to provide participating

state associations

and

institutions

with baseline reports of community college enrollment, transfer, and completion. 

Data collection templates. We have developed a template that allows institutions to track progress and measure the initiative's impact in the years ahead through their own regular reporting.
Qualitative Evaluation 
Playbook (2022). This playbook is meant to serve as a guide for state or regional associations seeking to increase community college transfer and completion on a sector-wide or consortial basis. We draw from the experiences of four state grantees and discuss the goal-setting process, implementation, and strategic thinking around the sustainability of a community college to independent college transfer initiative. 

Playbook (2024). As the initiative continues we will supplement the first playbook with lessons learned from additional states. This second playbook will be published in the summer of 2024. 
In addition, we have developed the following resources to assist state and regional associations in the development of their transfer initiatives. 
Transfer strategies paper

. This report offers strategies to improve community college transfer and completion, including recommendations around the academic, cultural, and financial dimensions of transfer.  

Additional resources

. We have gathered examples of helpful project documents from the current initiatives, including job descriptions for project consultants and marketing resources.
We invite you to engage with this work and encourage feedback through the form below or by contacting the project lead directly at daniel.rossman@ithaka.org.
Additional Resources
We have compiled a set of resources from project leaders in Minnesota and New England to assist state associations looking to develop their own transfer initiatives. These project documents can serve as examples for state associations in the early stages of their initiative or who have yet to begin their transfer work. If you and your state association have other resources that should be included here, please reach out to julia.karon@ithaka.org. 
Guiding principles. The New England Board of Higher Education (NEBHE) put together a set of guiding principles that all participating four-year institutions must sign onto as part of the New England Transfer Guarantee. Attached are the principles for Massachusetts institutions. 
Marketing flyer. NEBHE developed this flyer to advertise the New England Transfer Guarantee to potential community college transfer students. 
Marketing instructions sheet. NEBHE aligned all their marketing materials using this sheet, which includes the logos, fonts, and color palette used to market the Transfer Guarantee.
Memorandum of agreement for transfer guarantee. This agreement details the roles and responsibilities of signatories to the Connecticut Independent College Transfer Guarantee, and describes the eligibility criteria for participating in the guarantee. 
Survey on disciplines. During the planning phase of their initiative, the Minnesota Private College Council (MPCC) sent out this survey to determine which major-specific pathways to pursue. MPCC made sure to select disciplines that aligned with both institutional interests and the initiative's funders. 
Survey on transfer practices. MPCC also sent out this survey to determine what practices and policies their member institutions had in place around transfer. This context helped the Council select which goals to pursue at the consortial level. 
Project consultant position description. When searching for a consultant to lead the planning phase of their initiative work, MPCC used this job description to find the best candidates. 
Website contract. NEBHE was able to contract with public four-years in both Massachusetts and Connecticut to develop pages on the state website with information about the New England Transfer Guarantee in each of those states. This contract details the partnership between NEBHE and Connecticut State Colleges and Universities. 
Massachusetts Independent College Transfer Guarantee Resources, compiled by the New England Board of Higher Education, includes several resources that may be helpful for institutions and state associations.