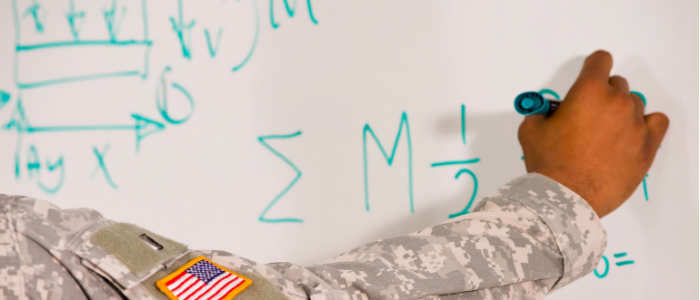 Only one in ten student veterans is enrolling in the colleges and universities with graduation rates of 70 percent or higher. But the evidence indicates that many more can succeed at these institutions. Furthermore, student veterans enrich the educational experience for all members of the campus community, bringing their diverse life experiences and skills into the classroom and onto the college campus.

The College Board and Ithaka S+R are partnering to improve college opportunities for veterans. At a kickoff conference on November 13-14, we convened more than 100 leaders from higher education, military, and veterans service organizations who announced their commitment to increasing the enrollment and graduation of veterans at colleges and universities with the highest graduation rates. The following organizations announced the steps they will take to achieve these important goals, including:
The American Council on Education (ACE) will support expanded opportunities for veterans by providing workshops for high graduation rate schools and sharing emerging success stories across the higher education sector.
More than 30 member institutions of the American Talent Initiative (ATI) – a Bloomberg Philanthropies-supported collaboration between the Aspen Institute's College Excellence Program, Ithaka S+R, and a growing alliance of colleges and universities – have committed to increase their recruitment, enrollment, and support of student veterans, as part of the broader ATI effort to enroll and graduate an additional 50,000 low- and moderate-income students by 2025.
The Coalition for College, in addition to its veterans' application fee waiver, will connect veterans who receive college-planning assistance from community-based and/or college access organizations that are part of its registry with Coalition schools that seek veterans' unique skills, including leadership, teamwork, and service.
The College Board will make is easier for colleges and universities to recruit veterans by expanding its Search program to service members. This will shine a light on veterans who might otherwise be overlooked and allow colleges and veterans to begin discussing their transition to campus earlier. The College Board is also launching a webpage to help service members make the most of their education benefits while still in the military (collegeboard.org/military).
The Common Application is developing a more inclusive military friendly application highlighting the service experience of veterans, creating new resources for navigating the college application process and learning about institutions that offer programs and fee-waivers for veterans, and, through the Reach Higher initiative, celebrating the stories of veterans who have successfully navigated from military life to and through college.
The Posse Foundation will double the number of students it serves by 2025, adding six to eight university partners to serve 500-600 veteran students each year.
Service to School is renewing its commitment to transforming higher education for veterans by specifically committing to supporting the fastest growing population of veterans: women. Service to School will work with colleges and universities to understand how they can create and showcase policies and programs that will attract and support women veterans to the student body.
The conference provided concrete guidance on how to improve the recruitment, support, and graduation of veterans. Several college and university leaders shared how they have improved college opportunities for veterans through targeted advising, veteran-friendly admission policies, improved veteran support, and transfer programs.
For more information on the initiative and to receive our publications about veterans and higher education, please submit this form: