Getting My CLAWs into Assessment
The biennial Canadian Library Assessment Workshop (CLAW) is set to take place this week at the University of Windsor. This will be my first time attending the workshop, which primarily focuses on outcome-based initiatives and decision making to better support libraries and demonstrate their impact on research, teaching, and learning. As I eagerly await for the  workshop to kick off, I'm sharing some emergent themes and takeaways from the conference program.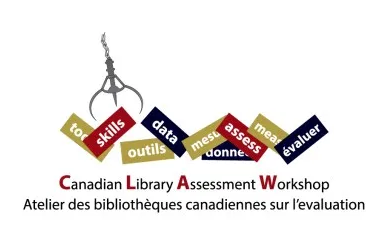 Collections assessment: A substantial portion of sessions, including the two pre-conference workshops, will be devoted to discussing how best to approach collections management through assessment initiatives. It's worth noting the extent sessions like these dominate the workshop, especially given that sessions in the 2018 Library Assessment Conference tended to focus more on user research for services and spaces rather than digital collection assessment: 
Roger Reka (University of Windsor) will explain how to use APIs within subscription databases and data science techniques to support decision making when managing collections in a

pre-conference workshop

.

Jason Friedman (CRKN) and Émilie Lavalée-Funston (CRKN) will present a

new tool

, Journal Value Analytics, that helps libraries evaluate their participation in journal packages and analyze the data for making informed decisions to improve collection management practices.

Klara Maidenberg (University of Toronto) and Eva Jurczyk (University of Toronto), in their

pre-conference workshop

, aim to boost attendee capacity and confidence in using qualitative and quantitative methods of electronic resource assessment.
Mixed-methods assessment approaches: An exciting theme emerging from the program is using mixed-methods approaches to assessment. Many sessions aim to not only demonstrate how these methods were employed, but how they can be adapted for attendees' own library needs. Such workshops will help diversify the methods assessment librarians use in their day-to-day practices, and will help to further demonstrate value to their stakeholders. Some sessions of interest include:
Jaclyn McLean (University of Saskatchewan) and Ken Ladd (University of Saskatchewan)  will present findings from their

most recent analysis of Big Deals

, and will provide practical information on how they aggregated data from different sources, as well as some tips for managing these types of data.

Emily Christofides (University of Waterloo) will lead an interactive session focused on helping attendees

find the right assessment method

to answer their most pressing questions. 

Chloe Riley (Simon Fraser University) will introduce a qualitative method called

Ecocycle Planning

, which presents new ways of working in groups when conducting research. Attendees will have an opportunity to understand how to facilitate Ecocycle Planning for their own activities and programs.
Evaluation of assessment tools: Not only are speakers discussing their own assessment methods, but some will be presenting on their collaborative work with external library service quality tool providers. Evaluating different library service tools is helpful to understand the opportunities that are available outside of developing a home-grown assessment tool or relying on one that has been previously employed. Two tools in particular–the Australian Insync survey and the new Project Outcome for Academic Libraries–will be highlighted.
Positionality and promotion of reflection: Some sessions will provide attendees with an opportunity to reflect on their own assessment practices and how their power, position, and bias may influence the work they do. As equity, diversity, and inclusion initiatives continue to increase, it is essential to reflect on one's bias, position, and authority in research practices. It is wonderful to see growing attention to this theme as more consideration is given to equity, diversity, and inclusion topics within assessment, which were previously addressed at the 2018 Library Assessment Conference.
The

first keynote

of the workshop will discuss "the nature of power, bias, and positionality in library assessment." Ebony Magnus  (Simon Fraser University), Maggie Faber (University of Washington), and Jackie Belanger (University of Washington) will highlight how differing power authorities may present conflicts when making decisions in assessment, how assessment is influenced by these dynamics, and how best to mitigate potential roadblocks due to these influences.

Lisa Levesque (Ryerson University) and Kelly Kimberley (Ryerson University) will discuss their qualitative investigation of why students incur fines.

In their session

, they will discuss how qualitative research gives students a voice in controversial issues, while also reviewing best practices for mitigating bias in qualitative investigation, some of which they used to overcome their own biases throughout their assessment. 
I'm looking forward to following these thematic areas in action and hearing attendee perspectives on these topics at CLAW in just a few days. In the meantime, what sessions are you most looking forward to at CLAW? What trends are you seeing emerge in the program? For those of you that are attending, I'm looking forward to seeing you in Windsor!