Inside an Ithaka S+R Training Workshop
In 2016, Ithaka S+R began collaborating with libraries to extend our deep dives into the research needs of faculty in a variety of fields, including, Civil & Environmental Engineering, Asian Studies, Religious Studies, Public Health, and Indigenous Studies. Having partnered with 75 university libraries for these studies, last year, we began using a similar model to better understand the instructional needs of faculty. To date, we have collaborated with 38 libraries on two projects on our teaching support services program (bringing us to over 100 different libraries in total), and each one kicks off in the same way–with a workshop. 
What happens in these workshops? In each one, Ithaka S+R provides training to the research teams the participating libraries have assembled in the qualitative research methods they will use in the project. We most recently ran workshops for the Teaching with Primary Sources Project.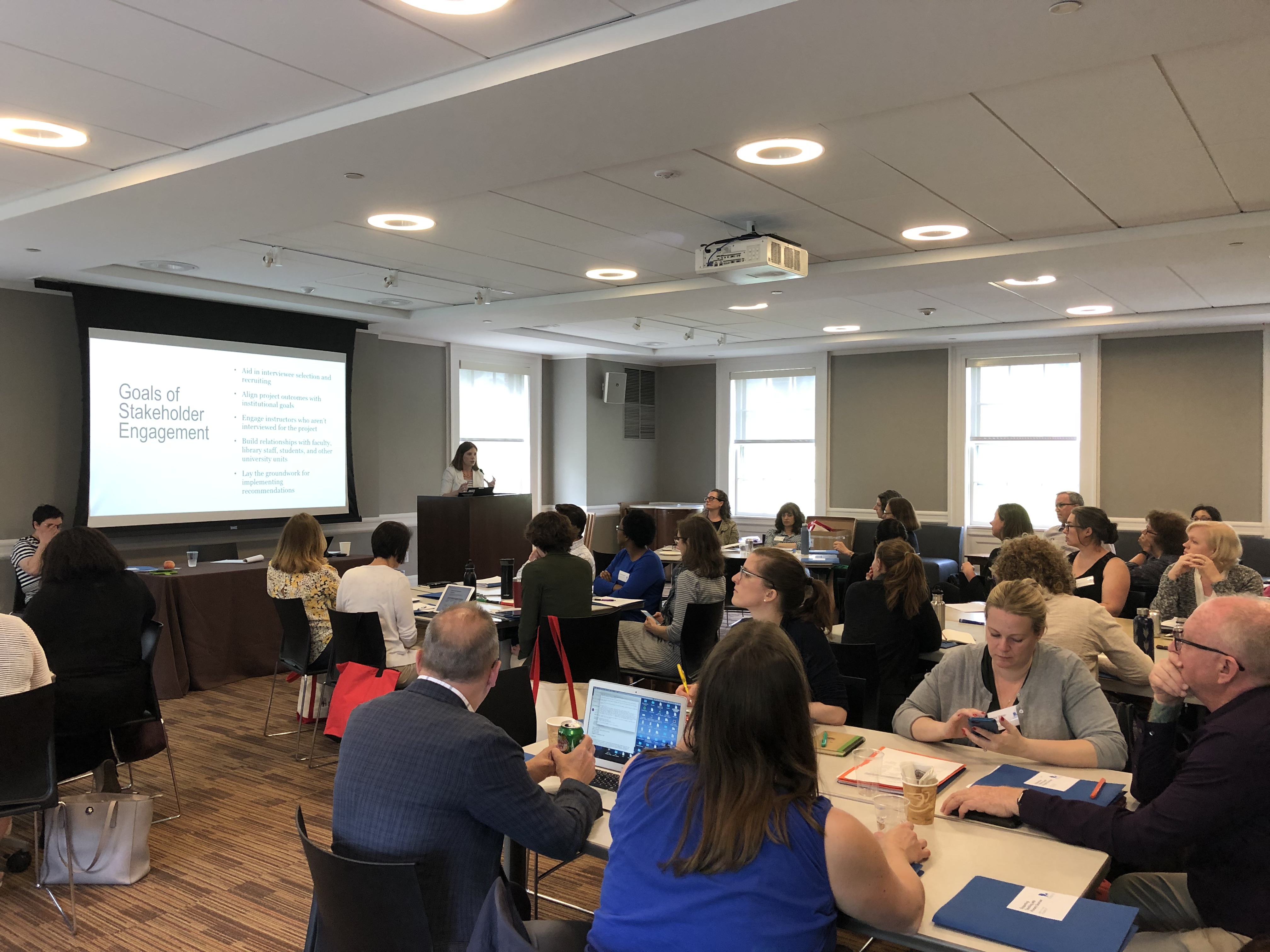 About the Primary Sources Project
As universities  increasingly focus on developing students' critical thinking and information literacy skills, "primary sources" provide a key component of "inquiry based" or "research-led" teaching approaches. Furthermore, new technologies continue to expand opportunities for students to engage, manipulate, and study primary sources, while the explosion of digital content continues to expand the definition of what constitutes a primary source in the first place. To explore the impact of these changes on undergraduate instruction, Ithaka S+R is partnering with 26 university libraries to better understand the pedagogical practices and needs surrounding undergraduate education with primary sources.

Diving into the Workshop
Throughout the month of June 2019, 87 librarians from participating institutions gathered in Chicago, IL; Providence, RI; and Sheffield, UK to discuss the scope of the project, brainstorm ideas, and to learn interviewing and coding techniques. During the first of two intensive days, the teams developed their capacity as interviewers by reviewing techniques and participating in multiple practice sessions with peer review. The exercise revealed the challenges and pitfalls of conducting a semi-structured interview. Semi-structured interviews can easily derail into unstructured conversations, and for librarians trained to provide correct and accurate information, it can be a challenge not to intervene when someone is misinformed about open access, for example. Finding the right balance between listening and probing for more information, and getting participants to test out their own personal interview style, were crucial outcomes of the workshop and vital to the project going forward.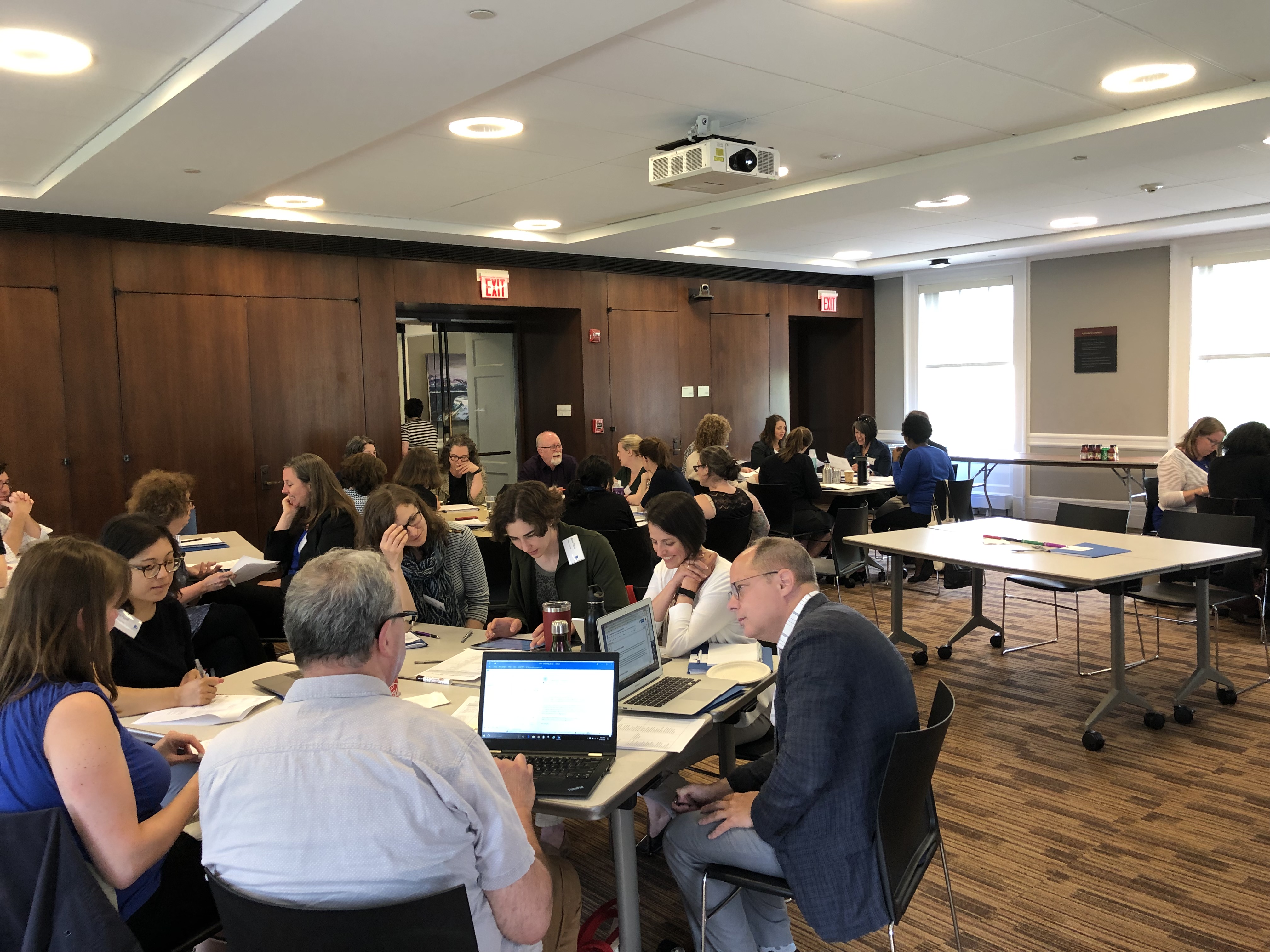 We spent the remainder of the day strategizing over stakeholder engagement. Engaging local stakeholders is a critical element of these projects, both for ensuring success in project execution and developing relevant, impactful results.  Raising the library's on-campus profile and keeping decision makers aware of the library's role as an active partner in research and teaching are critical goals for Ithaka S+R's library collaborations. Taking a longer view, we hope teams capitalize on this opportunity to strengthen existing relationships and cultivate new ones, and that these last well beyond the lifetime of the project.
Each team will conduct between 12-15 recorded interviews with their faculty, and once those interviews are transcribed, they will need to start analyzing them. The first step in this process is coding, and day two was spent getting into the nitty gritty of it. Coding the transcripts helps organize the information along themes that arise over multiple interviews, but, while helpful for analysis, coding was by far the most daunting task for most participants. However, as we practiced coding our sample transcripts and comparing the results, participants were generally relieved to find that they and their colleagues picked up on similar topics, and consensus around coding emerged organically and with surprising speed.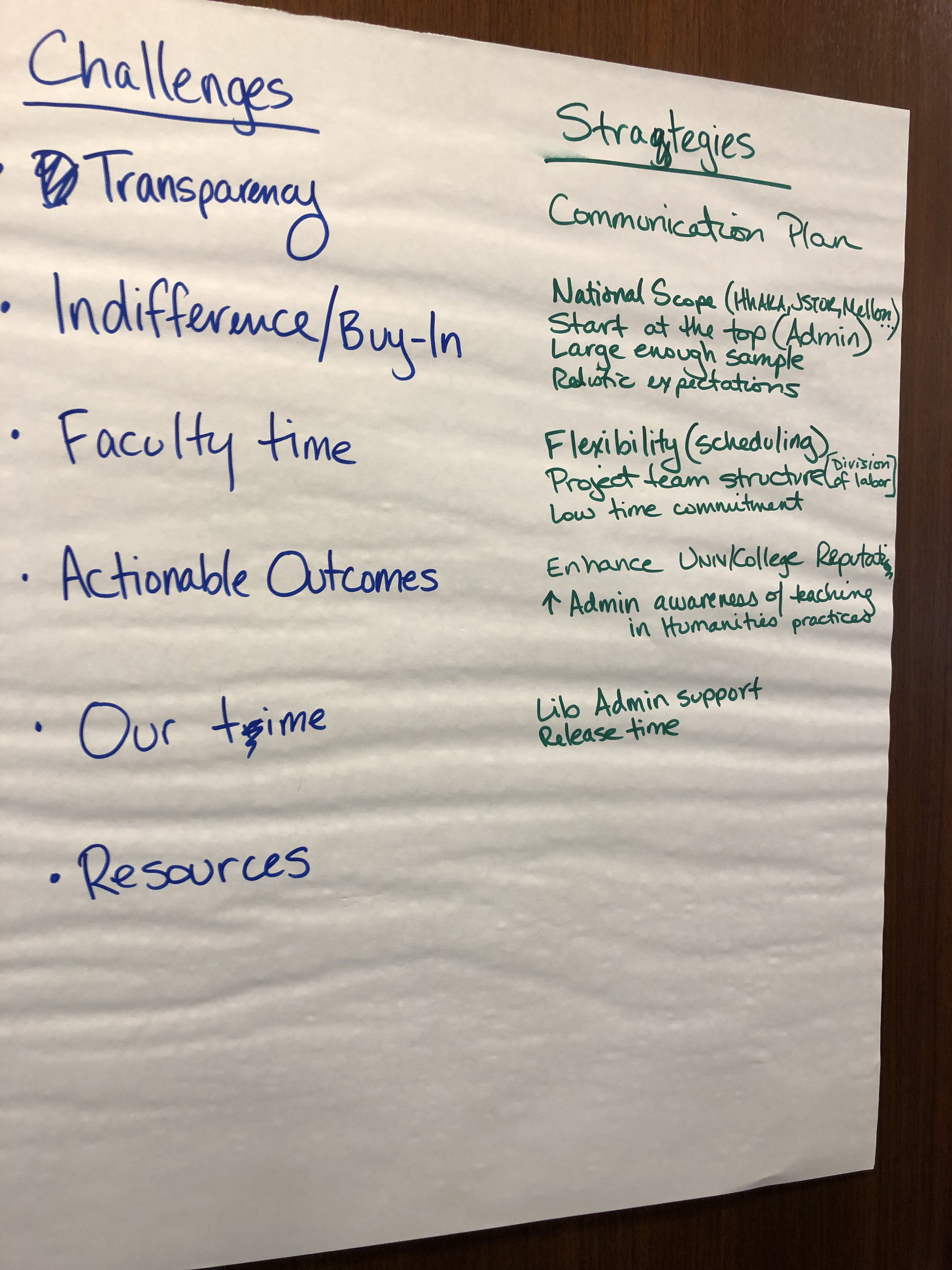 The final step of the project for the teams will be to compose a local report, summarizing their findings and providing strategic recommendations on how their library can better support primary source instruction (for example, see the University of Hawai'i System's report on Indigenous Studies and Lafayette College's report on Asian Studies). Pooling together the interview transcripts from across the cohort, Ithaka S+R will then perform its own analysis and synthesize findings in a final capstone report. Looking ahead, we wrapped up the workshop with a discussion on report writing and strategies for leveraging the project's findings for maximum effect.
What's Next? 
As the teams returned home to their campuses, it was clear that one of the most valuable outcomes from the workshop was the wealth of ideas and information shared between the teams–not surprising when you corral a bunch of librarians in a room for two days. Rather than a barrier to collaboration, the unique contexts of each participating institution proved to be fertile ground for idea generation, as the teams identified equivalent resources and opportunities on their own campuses and thought of new strategies based on different institutional limitations. The forging of these inter-institutional connections lent a collegial air to the workshop, and we were excited to see these relationships blossom. 
Over the coming months, the teams will begin to select interviewees, conduct interviews, and analyze the data. Here at Ithaka S+R we are preparing to guide and support all these local efforts, and look forward to publishing the national capstone report on current practices and support needs of faculty teaching with primary sources in Fall 2020.