Remembering Deanna Marcum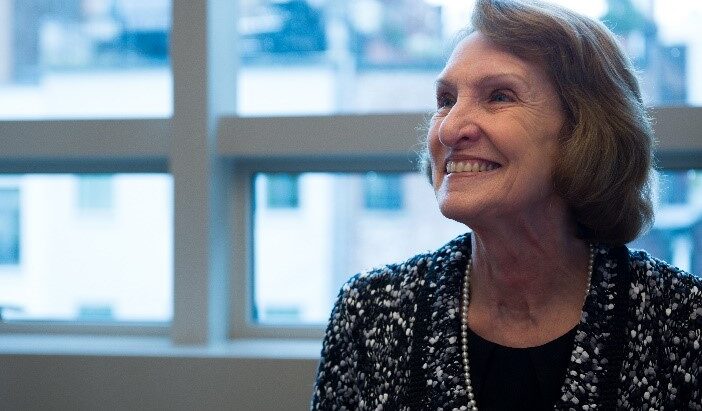 We are so terribly sad about the passing of our beloved colleague Deanna Marcum on August 16, 2022. Deanna was a humble and private person, so she would not want a lot of attention focused on her, but her impact on me and us here at ITHAKA is so profound that we must recognize and share it. 
I first met Deanna in 1996, when she was the president of the Council of Library and Information Resources. She took me under her wing and introduced me to many librarians and helped to establish JSTOR as a credible partner for the library community. She was the best possible mentor, professional colleague, and friend. JSTOR's success is therefore just one of her many legacies.  
I sought her counsel when we were first contemplating creating ITHAKA and she played a critical role in advocating for us to do so. She was leading the Library of Congress at the time and was incredibly busy, but she kindly agreed to join the ITHAKA board as one of our first trustees in 2005.  After serving on the board for seven years, and upon her retirement from LC, she agreed to join our team to lead Ithaka S+R in 2012. As she transitioned to ITHAKA, she said "As I retire from the Library of Congress, I want to remain engaged and devote more time to the issues I am passionate about: preservation, the future of information organizations, and higher education."  And that she did. She was a founding member of the advisory committee that led to the creation of Portico, and she led S+R for four years. She continued to serve as a senior advisor for us to the present. She played a critically important foundational and continuing role in the success of Portico and Ithaka S+R .    
Deanna leaves a stunning legacy in the scholarly and library community generally (she was awarded the Melvil Dewey Medal by the American Library Association in 2011), but as you can see her impact on ITHAKA has been both broad and deep.  Putting her innumerable professional accomplishments aside, she approached everything she did with an absolute and total commitment to excellence and an abundance of grace. I will never know a more gracious person. We will be thinking about ways we might recognize her impact on ITHAKA in due course, but we will want to do that with care and sensitivity that respect Deanna's humility and her desire that there not be undue attention paid to her. 
Deanna lived a life of service to others both professionally and personally. She will be missed for her many professional contributions, but even more for the friendship and counsel she provided to so many of us. We are so much better to have had her in our lives.  I have invited several of Deanna's colleagues at ITHAKA to share their reminiscences here. 
Sincerely,
Kevin
Reflection from Kate Wittenberg, Managing Director, Portico
Throughout her professional life Deanna had a deep commitment to preservation of the scholarly record, and her generosity in sharing her expertise and interest in preservation has been a tremendous help to me and the entire team in launching, developing, and sustaining Portico. On a more personal level, Deanna has been a wonderful mentor, colleague, and friend. I will miss Deanna very much, but I am so grateful that my colleagues and I had the opportunity to work with and know her for all of these years. 
Reflection from Roger Schonfeld, Vice President, Ithaka S+R
At the beginning of my career, I knew of Deanna as the incredibly wise and accomplished president of the Council of Library and Information Resources. When she later stepped down from "running the library" at the Library of Congress and agreed to serve as managing director of Ithaka S+R, I could not believe how lucky I was to have her as my boss. 
Deanna brought a leadership style that inspired many. She was tirelessly committed to the work and regularly offered to take on more from her employees. She was in touch with a wide network of leaders across the community, including many librarians, vendors, and humanists, and she was an astute observer of character. She modeled for us the necessity to tackle hard issues fearlessly yet compassionately. She traveled widely, appreciated the complexities of addressing professional priorities across cultural divides, and loved serving on the Japan-US Friendship Commission. Under her leadership, we developed the integrated approach to libraries and scholarly communication through which Ithaka S+R has served the community. 
We collaborated on several major projects, none more ambitious than the book we published last year, Along Came Google. Deanna was a fun collaborator, whether it was interviewing fascinating people together, deciding how far to push the telling of the story, or challenging ourselves this time to stick to the deadline. It was a pleasure to work together not least because we shared a desire to learn in similar ways, from an appreciation of the past.  
There are so many other gifts I can never repay, ranging from my sense of professional identity to a handknit baby blanket. I am personally and professionally forever grateful to have had Deanna as a boss, mentor, and dear friend. 
Reflection from Martin Kurzweil, Vice President, Ithaka S+R
My first encounter with Deanna was when I joined Ithaka S+R and began to work with her to create what is now the Educational Transformation Program. While I knew about Deanna's awe-inspiring background and accomplishments, my own experience with her was as a warm, thoughtful, incisive, and incredibly generous mentor and colleague, attentive to both the big picture and the small details. Deanna was always willing to roll up her sleeves and get to work on one of our research projects, while at the same time keeping an eye on the broader impact of what we were trying to accomplish and setting and supporting everyone in meeting her high standards of quality. She was attuned to the nuances of her own relationships with colleagues and relationships among colleagues, and knew just how to intervene to bolster them—whether that was offering a timely question or piece of advice, or a delicious home-baked treat or hand-knit gift. I'm so glad to have known Deanna as a friend and colleague, and to have had the privilege to work closely with her. 
Reflection from Laura Brown, Senior Advisor, ITHAKA
Thanks, Kevin, for taking the time to share such a vivid picture of a wonderful colleague. Deanna has been part of my experience for most of my time at ITHAKA—as a fellow board member, as a successor to leading the fledgling business of S+R (which Deanna took from a start up to a thriving resource for the higher education community), as a resourceful and willing sounding board for my questions about JSTOR strategy and the library market, and as a forward scout in the territory of retirement and deciding how to explore the next stage of what you want to do. Her grace, generosity, and immense knowledge of libraries are impossible to replace. And on a personal note, I'll really miss her.
Reflection from Catharine Hill, Managing Director, Ithaka S+R
I first got to know Deanna when I came onto the ITHAKA board. I had known Kevin and Bill Bowen from earlier work, but only got to know Deanna after joining the Board. I was so impressed with the work that she was leading through Ithaka S+R, which was very aligned with many of the issues I had been working on over the previous several decades. 
When I was finishing up my time as president at Vassar College, Deanna was instrumental in my moving to Ithaka S+R.  She was incredibly positive about the team and the work that they were doing. In addition, she was excited about S+R's future, and believed strongly in its potential to grow significantly and contribute even more to addressing the variety of challenges facing higher education institutions. She got S+R off the ground, with the support of the ITHAKA leadership, and I feel very privileged to have followed her as managing director.
I also want to mention what a generous mentor she was. In addition to my learning from her over the years, I watched her mentor the entire S+R team both before she stepped down as managing director and afterwards as well. I know she played a similar role across all of ITHAKA.  She was incredibly generous to those she worked with, modestly sharing ideas and advice.  She was a quiet leader, whose wisdom all of us who worked with her greatly appreciated.