As we move into the holiday rush, I think it's important to pause and reflect on the past year.
Our organization grew, adding six new staff members, and together we were able to take some deeper dives into subjects that have long been of concern to us and move into some new areas. I'm pleased to share some of these projects to highlight how our work is moving the needle on key issues in higher education and the arts. In taking stock of these successes, we are also thinking ahead to the coming year and asking ourselves how we can continue to deepen our impact. I wish you a happy and safe holiday season and hope that you will send us your thoughts and feedback.
Sincerely,


Catharine Bond Hill
Managing Director, Ithaka S+R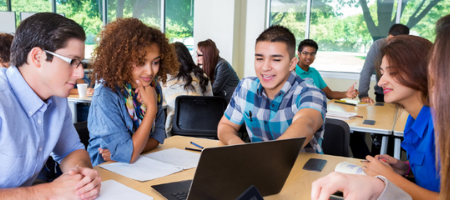 Supporting community college student success
Thirty-nine percent of all US undergraduate students attend community colleges. But the persistence, graduation, and transfer rates for these students are low. We undertook several projects this year to help change the equation–defining, measuring, and envisioning services that will allow community college students to meet their goals.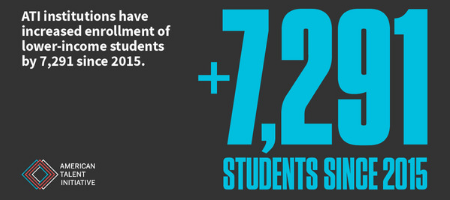 Collaborating for impact
Two years ago, we launched the American Talent Initiative, a Bloomberg Philanthropies-supported collaboration between Ithaka S+R, Aspen Institute's College Excellence Program, and more than 100 colleges and universities dedicated to substantially expanding opportunity and access for low- and moderate-income students. Earlier this week we released a report that quantifies the progress of the initiative: since the 2015-16 school year ATI members have increased enrollment of students who receive federal Pell grants by 7,291. This momentum indicates that ATI is on track to reach its goal to make higher education at colleges and universities with high graduation rates available to 50,000 additional low- and moderate-income students by 2025.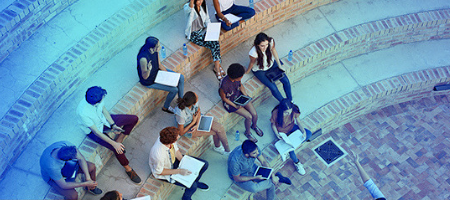 Using evidence to promote diversity, equity, and inclusion
As we look to increase diversity in higher education and cultural institutions, it helps to have a clear view of the landscape. In 2018, we undertook projects to better understand the representational diversity of art museum staff, how state policies have had an impact on the socioeconomic and racial diversity of students, and to what extent the most selective colleges and universities are serving veterans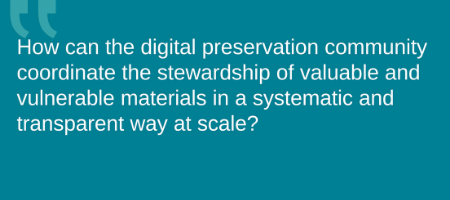 Fresh perspectives on collections & preservation
In the digital age, the process of collecting and preserving scholarly material has changed dramatically. Two of our recent issue briefs–The State of Digital Preservation in 2018: A Snapshot of Challenges and Gaps and Scholars ARE Collectors: A Proposal for Re-Thinking Research Support –take a closer look at the challenges facing scholars and libraries in this new landscape and describe the steps libraries can take to ensure long-term preservation and access to these collections for decades to come.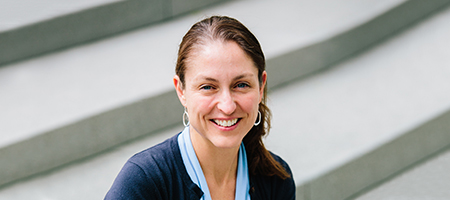 Thanks to support from the Strada Education Network, Ithaka S+R published Mapping the Wild West of Pre-Hire Assessment: A Landscape View of the Uncharted Technology-Facilitated Ecosystem earlier this month. We asked Beth Bean, director of the Strada Institute for the Future of Work to tell us more about the organization's focus on education-to-employment transitions.
1. The Strada Education Network has made innovative solutions in education-to-employment transitions a priority area for its philanthropic work.  In your view, what are the most exciting advances going on in this field?
What stands out the most is the robust innovation activity focused on Completion with a Purpose in the education to employment space.  Recently, there has been broad recognition that the education pathways of students must lead to employment or a career.  At Strada, we are focused on this mission, and are excited to see innovative solutions emerge in this space. To give one example, Strada recently announced our support for Paul Quinn College's expansion in Plano, TX.  Led by President Michael Sorrell, this is an innovative model that brings career relevance to its students in partnership with employers by allowing students to learn technical skills from employers while they learn human skills from college coursework at the same time.  This is a great instance of the silos of academia and business dissolving away through an innovative partnership.
Continue reading the rest of the interview on our blog
In the News
Top Colleges Are Enrolling More Students from Low-Income Homes
Melissa Korn, The Wall Street Journal
Why Is the Digital Preservation Network Disbanding?
Roger Schonfeld, The Scholarly Kitchen
The 'Wild West' of Assessment-Based Hiring
Paul Fain, Inside Higher Ed
Elsevier Faces Tough Questions About Its Business Model During Library and Publishing Conference,
Jennifer Howard, EdSurge
Amazon Mania Revealed These 3 Things About Higher Ed
Lindsay Ellis, The Chronicle of Higher Education
Missing From Top Colleges: Veterans
David Leonhardt, The New York Times
Learning Lessons from DPLA,
Roger Schonfeld, The Scholarly Kitchen
Colleges Are Taking Adult Students' Needs More Seriously. What's the Next Step?
Goldie Blumenstyk, The Chronicle of Higher Education
Letter: End Legacy Admissions?
Catharine Bond Hill, The New York Times