Dear Colleague,
As 2021 comes to a close, I am proud of what my colleagues have accomplished to expand access and opportunity for students from diverse backgrounds, develop strategies to support research and scholarship, and address the challenges that the leaders in all the sectors we serve are grappling with as COVID continues to disrupt business as usual. As is the case for many of you, work is not back to "normal" at Ithaka S+R. We continue to work remotely, and workshops and convenings that we had hoped to host in person were, for the second year, held virtually. Yet against this backdrop, we have undertaken a number of projects—highlighted below—that we believe hold significant promise for our communities. As a consequence, we continue to expand our staff and are currently hiring for a number of research and leadership positions—please help us get out the word to your contacts and networks.
Wishing you a safe and happy new year,


Catharine Bond Hill
Managing Director, Ithaka S+R
---
Solving stranded credits
Since publishing our first report last year, Ithaka S+R has been at the forefront of defining the problem of "stranded credits"—credits that students have earned but can't access because their former college is holding their transcript as collateral for an unpaid balance to the institution. We are now moving ahead with testing a potentially groundbreaking solution. We are working with all eight public universities and community colleges in Northeast Ohio to design and pilot a sustainable, inter-institutional compact to settle institutional debt and release transcripts of returning students with stranded credits. If the pilot is successful, there is great potential to rapidly scale this compact to other institutions in Ohio and to replicate the effort in other states.
Coming in 2022: Our aim is to move from concept to operations in time to begin outreach to students in the spring semester, with students re-enrolling through the compact as early as fall 2022.
Supporting students' basic needs
Our research over the past few years has made it clear that student success is often tied to whether students' basic needs are being met. But institutions struggle to collect data on basic needs—whether students have adequate access to housing, food, technological resources, healthcare, childcare, or transportation. In response, we have developed a guide designed to assist higher education stakeholders, from front-line staff to college presidents, effectively create, scale, and maintain a data collection process so that they can better advocate for their students.
Coming in 2022: Today's students face increasingly complex challenges inside and outside of the classroom, and it will take all leaders across the college working together with a deep understanding of each other's contributions to achieve the most positive outcomes for their students. To that end, we will be hosting several convenings to move from research to solution-building with members of the community.
Reinforcing the research enterprise
Over the past year, we've taken a closer look at the research enterprise—the systems, services, policy, and staffing necessary to generate knowledge at research universities. This has included a primer on research cores, an analysis of risks to research budgets, and an investigation into the challenges of supporting "Big Data" research. In concert with librarians from 11 universities, we also examined a cornerstone of scientific research—access to scholarly journals—and how changing subscription models are impacting research practices.
Coming in 2022: In February, we will hold an NSF-funded incubation workshop to understand the motivations, practices, and challenges faced by members of data communities.
Improving higher education in prison
Higher education in prison is at a critical juncture. With the restoration of Pell Grants for incarcerated students and a strong and growing cohort of college- and university-affiliated programs, there is a sharpened national focus on the intersection of systemic racism, mass incarceration, and the pursuit of educational equity. Our work focuses on ensuring that as access increases, incarcerated adults are afforded the opportunity to receive a high-quality education. To that end, this year we launched Higher Education in Prison Research to help accelerate the collection, dissemination, and utilization of research about postsecondary prison programs and their students with a goal to measure and improve learning outcomes.
Coming in 2022: It is vital for higher education in prison programs to advocate for the specific technologies that best suit their needs. To provide programs with a resource to guide these conversations with their Department of Corrections (DOC) partners, we will be conducting a 50-state scan of the specific technologies currently available along with an analysis of particularly effective implementations. We will also begin recruiting programs to participate in a community of practice that will work with their DOC partners to implement, refine, and advocate for increased access to quality technology, information, and instructional resources.
Strategic leadership for department chairs
Department chairs help make important curricular, personnel, and budget decisions and increasingly play a crucial role in innovations around student success, research, and technology. Yet, while the department chair is typically the first rung on the ladder to senior leadership in academia, many take on the position without the necessary training or mentorship. We at Ithaka S+R are thrilled once again to be working with The Chronicle of Higher Education and Dever Justice, LLC to help fill this gap with a virtual series specifically geared to addressing today's challenges. While the first set of offerings has sold out, additional programming has been added for January 18 – 22, 2022.
---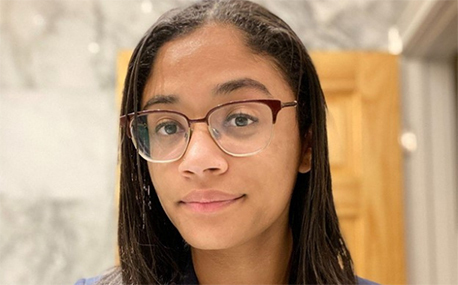 Three questions for Deirdre Harkins
On November 1, Deirdre Harkins joined Ithaka S+R's Libraries, Scholarly Communication, and Museums team through a collaboration with the Black Trustees Alliance for Art Museums (BTA). In this interview, she reflects on what brought her to BTA and what she hopes to accomplish during her fellowship.
---
In the news:
December 12, 2021
Northeast Ohio Colleges Aim to Tackle 'Stranded Credits' in a Bid to Reenroll Students
Laura Spitalniak, Higher Ed Dive
December 9, 2021
Ithaka Big Data Report Enlists Librarian Cohorts, Provides Professional Development
Lisa Peet, Library Journal
December 8, 2021
Big Data Could Pose Unsustainable Challenges to Universities
Dian Schaffhauser, Campus Technology
December 7, 2021
Resolving Unpaid Debts While Rescuing 'Stranded Credits'
Goldie Blumenstyk, The Chronicle of Higher Education
December 7, 2021
New Hope for College Students With 'Stranded' Transcripts
Terri Taylor, Medium
December 2, 2021
Report Offers Universities Big Data Research Tips
Suzanne Smalley, Inside Higher Ed
November 15, 2021
The Money and Prestige Issue
Jeff Selingo, Open Campus Media
November 11, 2021
Administrative Holds: Aiding or Preventing Student Persistence?
Emily Cole and Mary Fulton, Inside Higher Ed
November 8, 2021
As Misinformation Grows, Scholars Debate How to Improve Open Access
Suzanne Smalley, Inside Higher Ed
October 27, 2021
Consider This: Amherst College drops admissions preference for children of alumni
WBUR
October 25, 2021
The Blurred Line of Responsibility Between Research Offices and Libraries
Dalmeet Singh Chawla, Nature Index
October 25, 2021
Beyond Gatekeepers
Krista Speicher Sarraf, Inside Higher Ed
October 20, 2021
Reimagining the Scholarly Meeting
Colleen Flaherty, Inside Higher Ed
October 20, 2021
Ending Legacy Admissions Won't End Inequity
Catharine Bond Hill, The Chronicle of Higher Education
October 19, 2021
Bill Draws Bright Lines on Student Transcript Access
WHDH
October 5, 2021
A Natural Experiment
Catharine Bond Hill, Inside Higher Ed
October 4, 2021
What to Know About Stranded Credits
Sarah Wood, US News and World Report
September 23, 2021
Expanding Local Community College Transfer Pathways
Emily Schwartz and Elizabeth Davidson Pisacreta, Inside Higher Ed