Innovation in Teaching and the Freedom to Teach
Last year the American Association of University Professors (AAUP) released a statement on the freedom to teach which asserts several rights for faculty, including the right to determine the texts and assessments within their courses. While recognizing that "common course syllabi and examinations are… typical," the statement emphasizes that these "should not be imposed by departmental or administrative fiat."
Our newest issue brief, "Exploring the Contours of the Freedom to Teach," considers the potential impact of AAUP's statement on the academy. Authors Lawrence S. Bacow, Nancy Kopans, and Randal C. Picker believe "This new statement appears to seek to expand individual faculty member autonomy in ways that may be inconsistent both with how the freedom to teach has been framed traditionally and with the broad latitude that academic institutions need to have in how they seek to accomplish their missions of teaching and research."
Arguing that the rights of faculty in the classroom must be weighed against an institution's ability to offer new programs or support pedagogical innovation, Bacow, Kopans and Picker think that colleges and universities need the flexibility "to experiment with new ways of teaching that may offer the promise of being more effective and more efficient."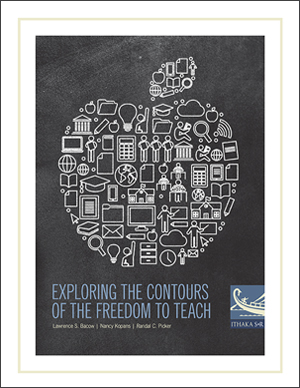 Interested? Download "Exploring the Contours of the Freedom to Teach."
About the authors:
Lawrence S. Bacow is President Emeritus of Tufts University.
Nancy Kopans is Vice President, General Counsel and Secretary at ITHAKA.
Randal C. Picker is the James Parker Hall Distinguished Service Professor of Law, The University of Chicago Law School, and Senior Fellow, The Computation Institute of the University of Chicago and Argonne National Laboratory.