Update on Ithaka S+R Student Surveys: 2020 Edition
The process for updating Ithaka S+R's local student surveys is underway. In August, we brought together a fantastic group of advisors and gathered their feedback on current student practices, perspectives, and needs. We then set out to incorporate their feedback into the instruments this past September by adding new thematic areas of focus, expanding on areas of particular importance, and phasing out questions that have become less relevant to libraries and their institutions over time.
Our graduate and undergraduate student surveys have been fielded at dozens of institutions since 2014, and the results have been used by partner institutions to both communicate the value of the library towards student success objectives and to better understand and support student needs. These instruments are complementary to our local faculty survey, and when administered together, libraries can use the findings from these surveys to better understand the perspectives, attitudes, and practices of their most vital stakeholders.
As we move towards a new decade, it is essential to update the instruments so they can remain relevant to the needs of libraries and their institutions today. The instruments will continue to be made up of a core set of questions with the option to add up to two optional thematic modules. Some of the optional modules listed below are for only one student population while others are for both; to see the full breakout of options for both populations, please visit our local surveys website or get in touch via email for more information.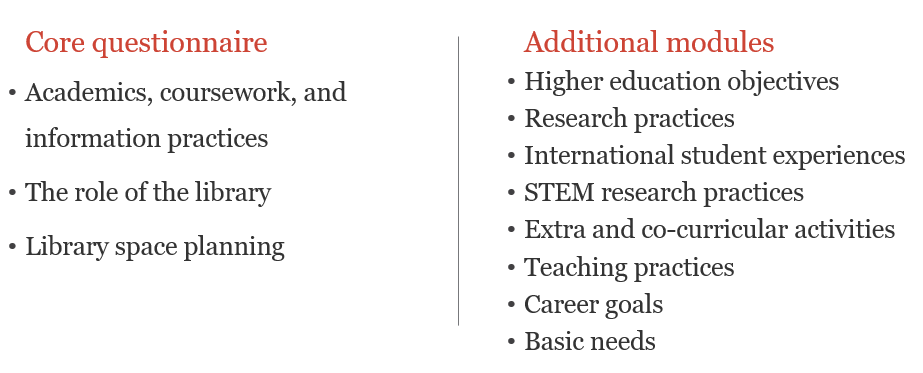 We were excited last week to announce via webinar (you will be prompted for your name and email address to view the webinar recording) the new areas of focus added to these instruments, as well as some major changes we are enacting to make these instruments even more useful to the libraries that utilize them: 
Library space planning is now a core module in the surveys.

One of the most substantial changes to both the undergraduate and graduate student surveys is the inclusion of the library space planning module in the core questionnaire, which every participating institution will field in addition to up to two thematic modules of their choosing. Nearly every institution we have worked with to date has included the library space planning module as one of the optional module selections and, in turn, we have decided to make it an essential part of the instrument.

The higher education objectives module is now an optional module.

While the higher education objectives module provides a useful lens to contextualize the survey data, feedback gathered to date from advisors and past participants has demonstrated that the library space planning module provides libraries with more actionable data. However, the higher education objectives module will continue to be an important offering within our optional modules.

More coverage of non-curricular information practices and needs.

Given the challenges that students face in navigating non-curricular information related to college services and resources, questions have been added to assess student challenges regarding their broader college experiences and information needs. 

Brand new optional module on students' basic needs.

In consultation with the

Hope Center

, we will now offer a new optional module to assess students' basic needs, including homelessness, housing security, and food security.

Expanded questions on the role of the library in enhancing student wellbeing.

We have included new questions on belonging, wellness, and sense of community within the library.

New questions on publishing and open access attitudes and practices for graduate students.

Within the optional research practices module for the graduate student survey, we have expanded our focus and have added an array of new questions on publishing and open access attitudes and practices.
Through this revision process, we have also been able to cut down on the length of the survey by about 15 percent while maintaining the integrity of the instrument and adding new areas of focus. Over the next two months, we will be gathering additional feedback from our project advisors and then testing the instruments with various student samples via cognitive interviews. We look forward to continuing to share updates on our progress. 
For those institutions that run one or more of the student surveys this spring, we will, for the first time, place local responses in context with other participants' anonymized results. We are aiming to build a cohort of 10-15 participants, which would allow us to also publish a public-facing research report with aggregate results, which we hope would serve as a useful community resource much like our national faculty survey reports. If you are interested in participating in the local surveys — student and/or faculty — in the upcoming academic year, please email my colleague Christine Wolff-Eisenberg at christine.wolff-eisenberg@ithaka.org.