Archives in the Anthropocene
An Interview with Eira Tansey
Cultural organizations and the government agencies that support them are increasingly devoting serious attention and financial resources to reducing their carbon footprints and climate-proofing their facilities. In a new addition to the growing body of literature on the topic, archivist and founder of the consulting firm Memory Rising, Eira Tansey outlines an ambitious policy agenda for mitigating the threats that climate change poses to archival collections and archivists. The agenda she proposes in A Green New Deal for Archives is rooted in her observation that preserving historical records and civic memory depends on resolving the chronic understaffing issues that have plagued archives across the country.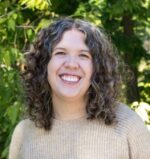 As part of Ithaka S+R's efforts to conduct research addressing the impacts of climate change on academic and cultural organizations, we asked Eira to speak with us about the future of archives in the anthropocene. Soon after this interview was conducted, the devastating fire in Lahaina, and the destruction of the Na 'Aikane O Maui Cultural Center in particular, provided yet another somber reminder of the urgent need to safeguard irreplaceable archives and cultural heritage collections. The following transcript of our conversation has been edited for clarity and length.
---
Can you give me an overview of how archival collections are likely to be impacted by climate change?
I categorize climate change impacts to archives into different areas of risk. To the degree that people do consider climate change risks to archives, the focus tends to be on the stuff (collections) and the storage (the facility). Less attention has been given to the risks climate change poses to the people: archives users and archives workers.
In addition to types of risks, there are varying time-scale risks. Climate change poses immediate and long-term risks to archives. Immediate risks include fires, floods, and hurricanes, while long-term risks include sea-level rise and geographic relocation. And climate change often does not present as a major headline disaster—even the increasing incidence of unpredictable weather and disruptions in seasonal climate cycles will lead to more events that threaten archives like pipe bursts (from cold snaps or droughts), increased mold and pest outbreaks, and power outages.
Inadequate staffing also makes archives more vulnerable to the impacts of climate change, as fewer staff are available either to undertake proactive emergency preparedness or to respond to the aftermath of a disaster.
Archives across government, higher education, nonprofit organizations, and for-profit corporations have suffered from decades of underfunding, which has created precarious staffing models at all but the most elite institutions. Most archives are not adequately staffed to deal with the normal influx of records, users, and technological change. Inadequate staffing also makes archives more vulnerable to the impacts of climate change, as fewer staff are available either to undertake proactive emergency preparedness or to respond to the aftermath of a disaster.
Archives and other cultural organizations have faced severe staffing problems for decades, but I was struck by how much time you devoted to labor and staffing in a piece ostensibly focused on climate change. What prompted you to treat the issues of staffing and climate as two sides of a coin?
I had a front-row seat to working in chronically understaffed archives for most of my career. Unlike many archivists of my generation who bounce around between contingent positions constantly, I was lucky to split the first fifteen years of my archivist career between Tulane University and the University of Cincinnati. This stability was only possible thanks to having permanent positions where I reported to terrific supervisors who were instrumental in supporting my career. But although both organizations are ARL libraries, the departments I worked in were incredibly understaffed compared with the holdings under their stewardship. This meant that I was always in triage mode, there was always going to be a permanent backlog without more staff, and I experienced firsthand the astonishing gaps between how leadership claimed to value the archives and the resources that administrators were actually willing to commit so that the archives remained safe and accessible for the long-term. Of course, this is not a problem unique to my experience—the failures of institutional leaders to adequately allocate resources for archives has been well documented since the 1985 Levy Report.
The firsthand experience of living out that gap in the aftermath of the 2008 recession and never seeing staffing recover anywhere across my professional networks sharpened my views of institutional complicity with the slow motion collapse of archives and libraries, a topic (along with climate change) I've been writing about for years. Many of our institutional leaders have failed to prioritize staffing by allowing the proliferation of short-term positions and normalizing a situation where vacant positions created from retirements and resignations are often left open. Those functions of vanished positions are either outsourced, abandoned, or offloaded onto increasingly burned out employees. We have tons of data showing us the impacts of overwork, contingent employment, and understaffing on the field, and this is directly connected to why nearly half of archivists are either considering leaving, or unsure if they will stay in the profession.
While library and archives leaders are subject to budgetary decisions made by those above them, I've been disappointed by the lack of collective urgency from most library and archives leaders and professional associations in mounting a fierce public fight to advocate for the retention, stabilization, and growth of our workforce. Just like climate change, the long-term cost of ignoring these workforce issues is that we are now confronted with much larger problems due to our inaction.
On a personal level, I have long standing interests in both environmental and labor issues dating back to childhood and I love helping people see things in a new light and connecting the dots between issues. When I was growing up, my dad kept an organic garden in our backyard and vocally criticized local Christmas light displays for the wastefulness of electricity, since electricity in our region at the time largely came from the violent extractive activity of Appalachian mountaintop removal. My maternal grandmother had been active in her union (AFSCME, Royal Oak, Michigan), and was constantly involved in various social justice community organizations. In college I was involved in campus activism related to globalization and the era of free trade agreements, both of which had enormous environmental and labor implications. So the seeds of my twin interests in environmental and labor issues started decades ago and were always growing in parallel. It was inevitable that at some point in my career I'd find a way to unite the two.
Addressing climate change is going to require huge financial investments in transportation infrastructure, clean and efficient energy, research and technology, and social safety nets across the globe. What's the case for treating archives as a high priority area for investment given all these competing and equally urgent priorities?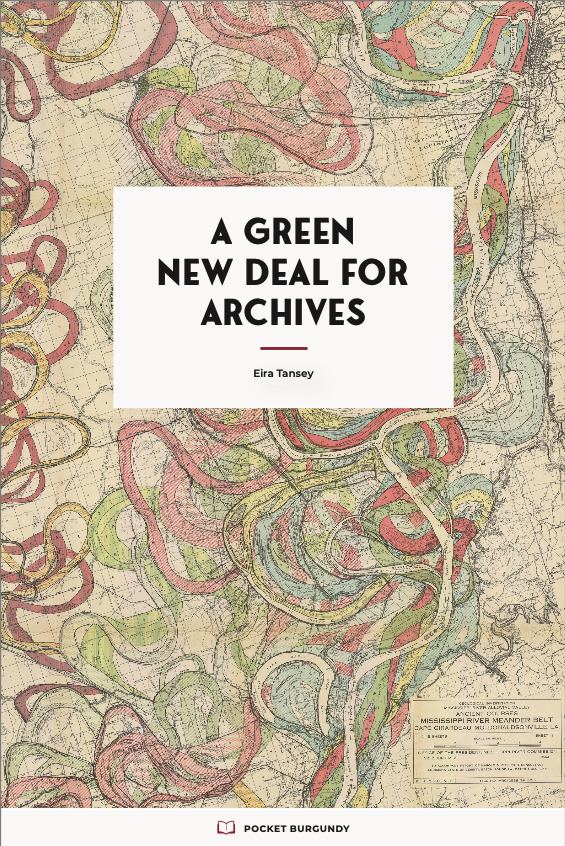 In Green New Deal for Archives I make the argument that archives function as the foundational infrastructure for democracy. This isn't hyperbole—archives, especially archival records that  document legal rights and hold those in power accountable—are essential to the democratic process. In the aftermath of a disaster, records have outsized importance. People who lose their birth certificates or college transcripts or property records or the photo album showing their hometown neighborhood need to trust that the government or university archives or community archives that hold those records can help them out in their time of need.
Archives contain unique materials that cannot be found elsewhere. A single burst pipe can cause enormous damage to an archive. A natural disaster that impacts an entire city or region may affect multiple archives. In a worst-case scenario, an archive subjected to a natural disaster may lose all its records. When Hurricane Katrina hit the Gulf Coast, many local governments experienced widespread damage to records, compromising the residents' ability to obtain replacement copies of vital records that they had lost in their own home floods. If we continue to neglect these archives, it will make dealing with the challenges of climate change far more difficult in the long run.
Decades of austerity have trained us to think we have to choose between safe roads, clean electricity, public health, or archives. That's a false choice.
Although the needs of archives are immense, the cost of restoring them is probably pocket change compared to upgrading all of our crumbling roads and bridges—and almost certainly fractions of pennies compared with the nearly $1 trillion we spend annually on the defense industry. Decades of austerity have trained us to think we have to choose between safe roads, clean electricity, public health, or archives. That's a false choice.
You draw inspiration from historical precedents such as the Works Progress Administration's historical record survey. Are there current efforts—either in the US or elsewhere—that we should be looking to as models for addressing climate change in the cultural sector?
Networks and collective action always inspire me, and we are fortunate that the American archives profession has a long tradition of working across institutions. Archivists are a unique category of information professionals since we work across so many sectors—government, academia, corporations, nonprofit, religious, and many other institutions. Records are records, and regardless of where they work, most archivists tend to care about the accessibility of the entire archival record and the well-being of other archivists and the communities that we serve. We need to find ways to support and expand this kind of work through cross-institutional collaboration to cut against the tendency that institutions have to work in silos.
Records are records, and regardless of where they work, most archivists tend to care about the accessibility of the entire archival record and the well-being of other archivists and the communities that we serve.
Right now I'm fascinated by the potential of visiting/roving archivist programs to serve as the "boots on the ground" to respond to the local ways in which climate change is affecting local archives. Roving archivist programs are typically hosted by state archives or state historical records advisory boards that hire an archivist who will travel around the state meeting with institutions that do not have their own archivist on staff. I see the echoes of the WPA Historical Records Survey in this work, but there are only maybe a dozen or so states that have visiting archivist programs, and even the largest visiting archivist programs typically only have a couple visiting archivists on staff. What would it look like if funding were radically expanded for this model? What if some of the existing emergency response networks were radically expanded?
I'm also inspired by the amount of unionization currently sweeping across the culture and education sector. One-third of archivists have expressed interest in unionization and recent unionization panels at the Society of American Archivists annual meeting were enthusiastically received. In my last position I was part of our union and it made such a positive difference in many aspects of my working life. Unions played an important role in advocating for workplace safety during the early days of the COVID-19 pandemic, and can play a similar role in relation to the workplace safety measures that will be necessary as heatwaves, unpredictable weather, and natural disasters become more frequent and severe due to climate change. There is a trend within collective bargaining known as "bargaining for the common good" where unions tie their bargaining strategies to issues that benefit the entire community. The most recent bargaining round with the United Teachers of Los Angeles took this approach, and the union won not only increasing the number of school librarians but also more green space within schools, limiting racially-disparate searches of students, and support for immigrant families.
What kind of projects did writing A Green New Deal for Archives inspire you to tackle next?
The best thing about writing Green New Deal for Archives was getting to dive deep into my somewhat obsessive interest in the New Deal and the WPA (the Works Progress Administration was the agency during FDR's administration that employed Americans to engage in a stunning array of public works projects). I'm grateful to CLIR for letting me spend a huge amount of my publication word count on the amazing story of the WPA Historical Records Survey, which is relatively unknown among most archivists today.
None of what I have proposed for restoring and supporting archives is utopian or beyond the imagination because it has all been done before.
The New Deal is fascinating to me precisely because it put Americans to work building roads, educating children, preserving local history, and expanding the arts for everyday people—the kind of work that we still desperately need almost a century later. I've harbored an intense fascination for the New Deal and the pre-WWII Roosevelt administration since reading Nick Taylor's American Made many years ago. As a millennial who has lived through the hollowing out of government and the public sector, the fact that our country once accomplished so much in such a short span of time during a period of intense international political change has provided me with an endless source of inspiration. The argument I made in A Green New Deal for Archives is that none of what I have proposed for restoring and supporting archives is utopian or beyond the imagination because it has all been done before.
As I was working on this publication, I realized that even among the circles I travel in, there was very little awareness of the legacy of the New Deal. Websites like The Living New Deal perform a valuable public service in documenting the ongoing legacy of the New Deal. But I also think it's worth considering other ways to tell the incredibly moving and fascinating stories of the New Deal, especially given the political revival of the idea of a Green New Deal. Clearly I'm all for a Green New Deal, but if we only focus on energy and physical infrastructure, we will have missed out on reviving some of the most amazing aspects of the original New Deal's contributions to culture, education, arts, and the humanities.
It's an incredible cliche to want to start a podcast, but I am kicking around the idea of developing a New Deal history podcast that does a deep dive into different aspects of its legacy, like the changes in banking through the FDIC, or the approach to land and water conservation with the Civilian Conservations Corps and the Soil Conservation Service, or the changing media landscape through FDR's use of the radio and the publication of Farm Security Administration photographs. I have a whole blueprint for how to structure the show, I just need to find some partners so I can turn it into reality.