Three Questions for Giuseppe Basili
For our most recent newsletter, we interviewed Giuseppe "Seppy" Basili, the executive director of the Jack Kent Cooke Foundation (JKCF), a foundation dedicated to advancing the education of exceptionally promising students who have financial need. In this interview, Basili addresses how JKCF's mission has evolved, what new initiatives it is undertaking, and the challenges the foundation faces as it seeks greater access to higher education for high-achieving, low-income students.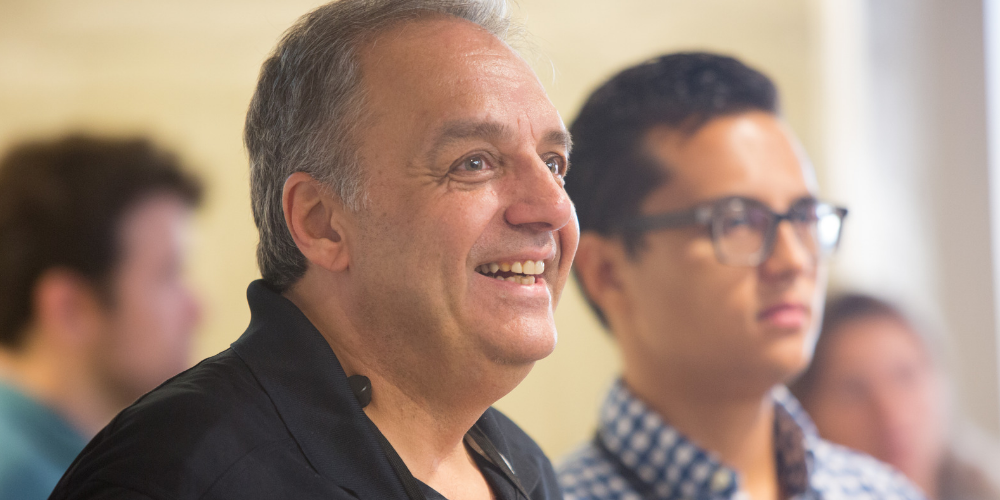 1. You've been with the Foundation for many years. Can you tell us how you've seen the Foundation's mission evolve since you joined?
The Foundation is continuing to research strategies and tactics for practitioners. Our most recent report, "Persistence," used National Student Clearinghouse data to demonstrate that community college transfer students thrive at selective four-year institutions. We'll be producing more projects like this through our internal research team as well as partners like Ithaka S+R and Two Year First Year, who we collaborated with on "First-Year Student Support." A recent project on the quality of financial aid award letters, which we sponsored for uAspire and New America, has already inspired a number of schools to change the way they communicate this information.
We're seeing higher education do more than ever before to recruit and support high-achieving, low-income students. We think that the need for education equity is resonating with institutions but in part, it's also good business. All the projections I see show increasingly smaller graduating classes from high school; at the same time, there's greater competition for dollars. Campus leaders are realizing that this "non-traditional" pool of students, like our community college transfer scholars, isn't so non-traditional anymore.
Nearly 40 percent of our undergraduate scholars attend one of eight institutions. We're learning more about the resources available at those campuses, especially in terms of career services and graduate school. We're hoping to leverage our relationships with those schools, and with other organizations in our space, to help further our mission.
Our benefactor Mr. Cooke was an entrepreneur, and one of the things entrepreneurs often apply is making a bet on the individual. Mr. Cooke owned sports teams and newspapers, where star columnists and strong wide receivers are an important part of success. At the Cooke Foundation, we're going to continue to bet on individuals – our scholars – and invest as much as possible in their future success.
2. What new areas of interest and strategic direction do you hope to see the Foundation explore?
While there's a lot more work to be done, it's encouraging to see more and more colleges becoming serious about providing opportunities for high-achieving students with financial need. Both Princeton and Yale recently crossed the 20-percent line for percentage of enrolled students receiving Pell Grants, which is exciting.
I'm interested in taking a look at more of the longer-term outcomes as students develop their own social capital. We want all of our Cooke Scholars to lead impactful lives and have access to opportunity, and we know that can take many different shapes. The Foundation is exploring ways to support our scholars as they enter their careers, consider graduate school, and look at other life options. Even though they may have gone to many of the same institutions as their more connected peers, students like our scholars often have not had the same opportunities outside of the classroom to build professional networks and internship experience.
In addition to being a scholarship provider, the Foundation is also a grantmaking institution. We're starting to introduce program-related investments (PRIs), which function like a grant but also have the possibility of returning capital. PRIs allow us to invest in some new and different strategies, such as income share agreements (ISAs). That's not to say that ISAs are the solution to every issue in higher education, but they offer a promising, effective strategy to make college more affordable.
3. What do you think are the greatest challenges to advancing the education of high-achieving students with financial need and how is the Foundation searching for solutions to these challenges?
There are certainly political challenges. We're living in a time where states are decreasing funding for their flagship institutions, which puts enormous pressure on those flagships and may affect some of their enrollment decisions. Taking in more out-of-state students does not always equate to more benefits for students in their home states.
For many high-achieving students with financial need, the choice to continue their education through graduate school can be thwarted by the limited scholarships and grants available. Our board has made it a priority to ensure that anyone who enters the Cooke Scholar family has the opportunity to continue on with funding of up to $75,000 for graduate programs.
Another challenge is supporting a community of students like our scholars without reinforcing negative narratives or making "financial need" define them as a person. Dr. William Tarpeh, who is an assistant professor of chemical engineering at Stanford and a Cooke Scholar alumnus, phrased this best when he addressed our new scholars this past summer: "Don't mistake your core identity for your temporary circumstances."
We made a commitment to provide scholarships, advising, and lots of resources through our programs but what we're finding is that our most powerful asset is our alumni themselves. Our alumni are now leading presentations and in some cases, designing the programming at our in-person events and in our online communities. We are incredibly grateful to have alumni remain active in our scholar community and serve as near-peer experts.