(Un)attending the #ELI2020Unconference
I was excitedly awaiting my first ELI Annual Meeting on Sunday afternoon when I received the disappointing news that it was called off. Due to growing concerns over COVID-19, the conference organizers made the difficult decision to cancel the meeting. Although an appropriate decision, many presenters, like me, were left with many hours worth of work with no way of presenting it. Personally, I was planning on presenting my poster—Shaping Up Services: Developing Prototypes for Student Success, which describes a data-driven approach recently implemented across a cohort of colleges called service concept testing—and was eagerly anticipating a few days worth of interesting discussions on integrating new technology in designing and developing support services to promote student success (To view the poster, see below).
All hope was not lost, however. Some dedicated professionals with the conference spirit sprung into action, creating an "Unconference." Via GoogleDocs, Zoom meetings, and a hashtag, Unconference organizers Nate Angell and Michael Greene created a multimodal conference experience. They were able to swiftly connect attendees who already landed in Bellevue, Washington, with those who had not yet traveled to the conference—and even a few attendees who wouldn't have otherwise attended the conference—to discuss the content, resources, and materials of presenters from the original conference agenda. 
Here's how it worked: presenters proposed sessions for the Unconference within a Google Doc and attendees voted in the Doc for what sessions they would like to join. Unconference organizers subsequently created a schedule based on the upvoting, with two session options per time slot. Sitting in my office in Midtown Manhattan, I was able to attend multiple sessions by joining a Zoom meeting, requesting which session I wanted to attend, and being sorted into a breakout meeting room with other attendees hoping to learn more about their chosen topic.
Attending the Unconference provided some unique experiences only afforded by the dual face-to-face and remote nature: 
The sessions I attended were informal and small, with presenters offering some slides or demos

—

and sometimes no visuals at all

—

and ample time for discussion. The informality of these sessions allowed for deeper dives into topics, focusing on collaborative and discussion-based learning.

Attendees could engage with others remotely using the chat box feature in Zoom throughout the sessions. Unlike a traditional conference where talking or asking questions throughout a session could be viewed as disruptive, discussion was more naturally encouraged in the sessions I attended.

Attendees were able to send each other resources in the chat during the session, putting all resources in one place, and allowing attendees to view them in real time throughout the session. 

By accessing the sessions remotely, the Unconference broadened their audience to those who wouldn't have time for a full conference experience, and to those who weren't originally attending. For instance, one of my colleagues, who originally was not planning on attending the ELI Annual Meeting, was able to attend one of the Unconference sessions with me.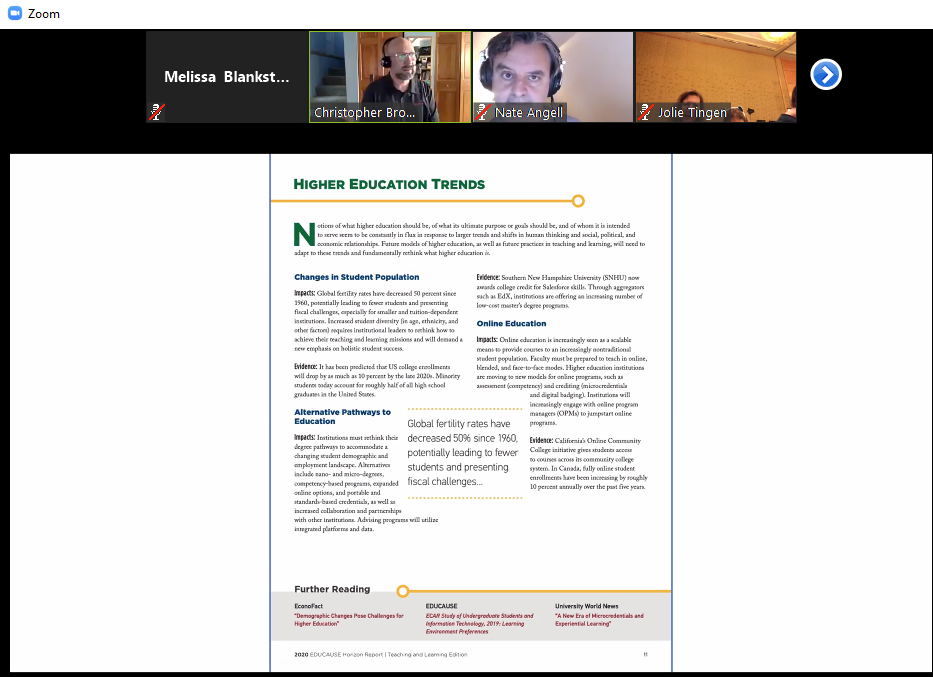 A screenshot of one of the sessions I attended on the 2020 Educause Horizon Report: Teaching and Learning Edition
Overall, the 2020 ELI Unconference was an interesting and functional alternative, spurred by creativity, fast organization, and dedicated professionals willing to share and learn more about emerging topics of importance in their field. This virtual substitute to the conference with both face-to-face and remote options provided presenters and attendees with a way to share information and take new resources back to their respective institutions. In the wake of COVID-19 and the likelihood of more cancellations to conferences to come, what other informal, virtual alternatives like the 2020 ELI Unconference will be created?
Shaping Up Services: Developing Prototypes for Student Success
Although I was disappointed I was not able to present my poster at the ELI Annual Meeting, I am sharing it here (click on the image to see the PDF) and would welcome virtual discussion. Email me your thoughts and/or questions at melissa.blankstein@ithaka.org, find me on twitter @m_blankstein, or leave a comment below.