Academic Library Strategies Shift to Closure and Restriction
The Next 48 Hours of Academic Library Response to COVID19 
For the most recent findings see First This, Now That: A Look at 10-Day Trends in Academic Library Response to COVID19
On Wednesday, March 11, at 8:00 pm ET, we deployed the "Academic Library Response to COVID19" survey in order to gather as-it-happens data from and for the academic library community. On Friday we presented our analysis of the first 24 hours of responses (n=213). Today we compare those results with the data gathered over the subsequent 48 hours (n=194). 
We asked that people only submit information for their own library. The unit of reporting and analysis is the institution. Please have your library fill out the survey if it has not done so. It takes time, but on average respondents are able to complete the form in 5-10 minutes. If your library has filled out the survey and things evolve, please submit an update. We structured the survey to accommodate libraries submitting updates as often as they need to. The link to the survey with all of the questions on a single page is: https://surveys.ithaka.org/jfe/form/SV_8qN8F2274hMBBBz. The link is the same for taking the survey the first time and for submitting an update. 
You may also view a live results report as surveys are submitted at: https://ql.tc/aAaxhh. Because the results are updated live, they will not match the data reported here. The data here were extracted on March 12, 2020 at 8:00 pm ET and March 14, 2020 at 6:30 pm ET. Please note: we are comparing when data were reported and not when the decisions to take certain actions were made. 
Summary of Findings
In sum, more libraries are radically changing their service model or closing altogether, providing for increased social distance and staff and user safety. Specifically, our data show significant growth in the number of academic libraries closing, decreasing hours, restricting access, limiting services, and expanding remote work. In other words, as institutions move from less decisive or interim steps towards online-only instruction, libraries are aligning their services and also forgoing certain activities altogether. All told, roughly three-quarters of libraries reporting have at least reduced their open hours, with eight percent closing altogether. Business-as-usual is no longer the usual for academic libraries in the United States. Though we have not systematically analyzed the open-ended text entered with "other" responses, a quick review indicates that libraries are responding to a range of complexities as well as a variety of campus mandates and policy frameworks, some of which are enabling library action and others of which are limiting library options. 
Libraries that remain open, even if for limited hours, continue to implement safety and social distancing policies with a sharp rise in the number canceling programs and in-person meetings. Somewhat remarkably, however, "regular communication to staff with updates and guidelines on safety measures" continues to be reported in under two-thirds of libraries. 
We continue to monitor the incoming results of the survey for notable shifts and trends in the data. Libraries that submit the survey and then provide updates are particularly helpful for tracking this. We are grateful for any who are able to take the time to do so. Our next blog post will present an analysis of the shifts revealed by looking at initial and then updated submissions.
---
Status of institution
There has been a sharp increase in the number of institutions reporting moving to remote/online instruction, from 58 percent to 82 percent. Conversely, there are relatively few reports that classes are continuing as usual, declining from 25 percent to just five percent. In addition, more institutions are requiring students to vacate residential facilities (with exceptions allowed), growing from 21 percent to 34 percent. The status of institutions relative to classes and residency is likely affecting how libraries are responding to the pandemic.
Building access
Intuitively, as institutions have shifted instruction online, libraries are limiting–and even eliminating–their open hours. Far fewer libraries are staying open their usual hours, declining from 58 percent to 36 percent. Correspondingly, more libraries report limiting hours and/or locations open, growing from 28 percent to 48 percent. All told, roughly three-quarters of libraries reporting have at least reduced their open hours, with eight percent closing altogether, growing from one percent previously. Additionally, even when libraries are open, allowing general public access to facilities has decreased and 22 percent report no longer allowing general public access. 
What best describes the status of your library building hours?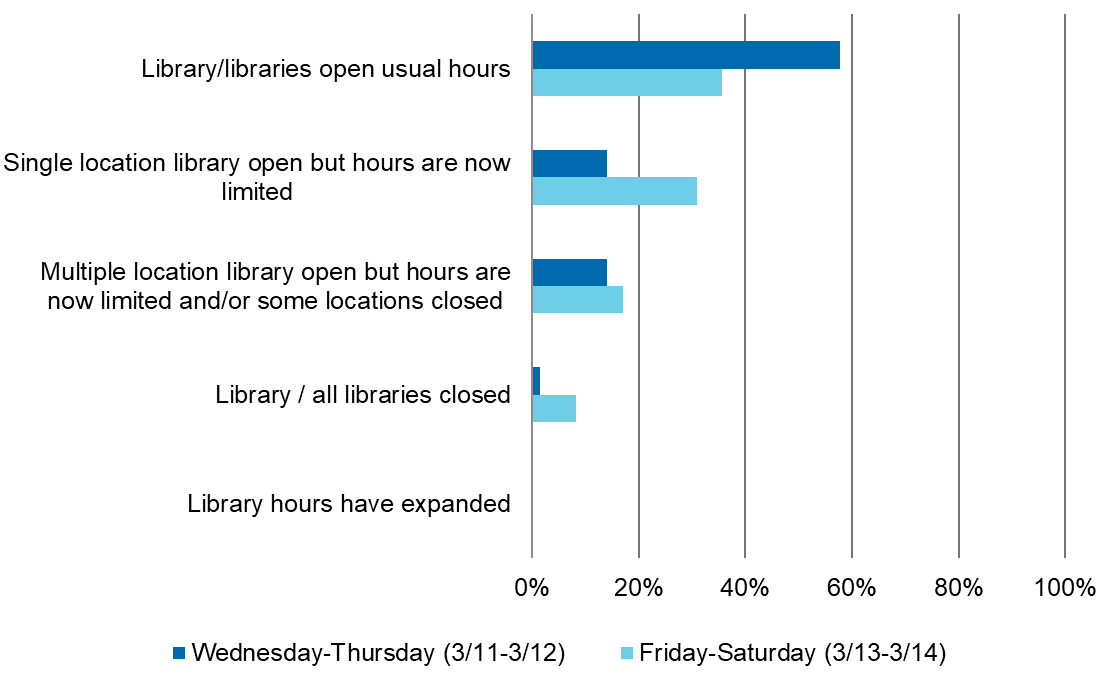 Collections and technology access
A smaller proportion of libraries are continuing to provide print materials as usual onsite and/or via delivery, declining from 45 percent to 38 percent; however, 40 percent are still providing access as usual and only onsite. We will continue to monitor how this shifts as seven percent are now reporting that access to print collections has ceased entirely. Technology lending has become more flexible, as fewer libraries are reporting continuing as usual. There is growth in libraries reporting that they are expanding the program to allow off-campus use for the remainder of term or for an indefinite period of time from four percent to 12 percent. This will be another trend to monitor. 
Services access
Library instruction services had already shown a pivot to online delivery, following the campus shifts to online/remote teaching, in the initial analysis. Reference services are now showing the same pattern of shift. Fewer libraries are providing reference services as usual, declining from 65 percent to 44 percent, and more are limiting service hours, increasing from 12 percent to 20 percent. Libraries providing reference service in online/phone format only have doubled from 14 percent to 28 percent. 
What best describes the status of your reference services?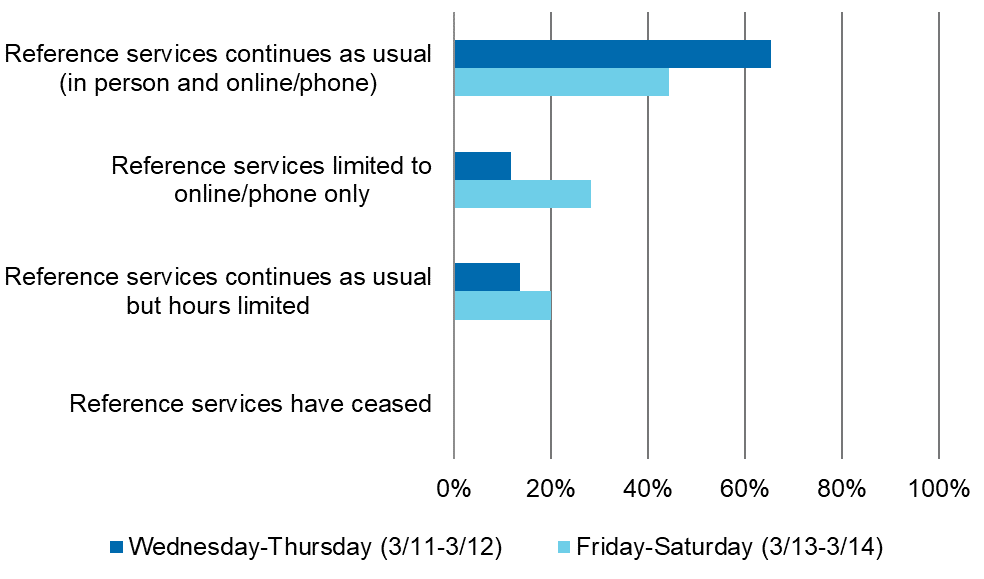 Library instruction continues to track with campus shifts in instructional delivery. Libraries providing synchronous instruction in the modality of the course has plummeted from 34 percent to 11 percent. Correspondingly, libraries providing online only synchronous instruction have grown from 36 percent to 43 percent. Libraries providing only asynchronous instruction have also grown from eight percent to 17 percent. Increasingly, reference and instruction are no longer provided in person, setting the foundation–or at least the possibility–for delivery by those working remotely. 
Prevention and mitigation measures
There is relatively little change in rates that cleaning, disinfection, and safety measures are employed. Somewhat concerning, however, is that "regular communication to staff with updates and guidelines on safety measures" continues to be reported in under two thirds of libraries.
More libraries are cancelling public events (56 percent to 74 percent), banning travel (percentage point increases of approximately 10 percent for both international and domestic), moving in-person staff meetings online (16 percent to 29 percent), and cancelling in-person staff meetings altogether (six percent to 13 percent). The development of protocols for one-on-one meetings with patrons has grown from 12 percent to 21 percent.
Personnel
Remote work policies are shifting. Libraries reporting that policies have changed to expand who may work remotely grew from 23 percent to 37 percent. In addition, many libraries are reporting that the policy has not changed but that employees were already allowed to work remotely. All told, there is an increase from 63 percent to 68 percent allowing remote work for at least some employee groups. Nonetheless, only two percent of libraries are reporting mandatory remote work, which means that, even when libraries have closed, employees are likely still working onsite. 
What best describes the status of your policy on employees working remotely?