Announcing the Next Cycle of the Art Museum Staff Demographic Survey
The Mellon Foundation and Ithaka S+R opened the third cycle of the survey on February 7
In 2014 and 2018, Ithaka S+R partnered with the Mellon Foundation, the Association of Art Museum Directors (AAMD), and the American Alliance of Museums (AAM), to conduct a quantitative study on diversity within art museums who are part of these associations. We are excited to announce the continued collaboration through a third cycle of the demographic survey examining diversity amongst art museum employees. 
Previous Cycles
The idea for the Staff Demographic Survey developed from rising interest regarding a lack of diversity and inclusion within the art and cultural sectors. The US population is rapidly diversifying, yet positions that are most directly responsible for presenting, interpreting, and caring for the world's art, culture, and heritage are not yet reflecting that diversity. In order to measure and track the demographics of staff members within art museums, Ithaka S+R developed an instrument for participating museum directors and human resources staff to provide anonymized data for analysis. Comparing our 2018 and 2014 findings, we found that there have been notable changes regarding the diversification of museum staff. As seen in Figure 8 from the 2018 Art Museum Staff Demographic Survey,  curatorial and education departments have made advancements in diversifying staff, however conservation and senior leadership positions remained stagnant with roughly 10-12 percent POC representation.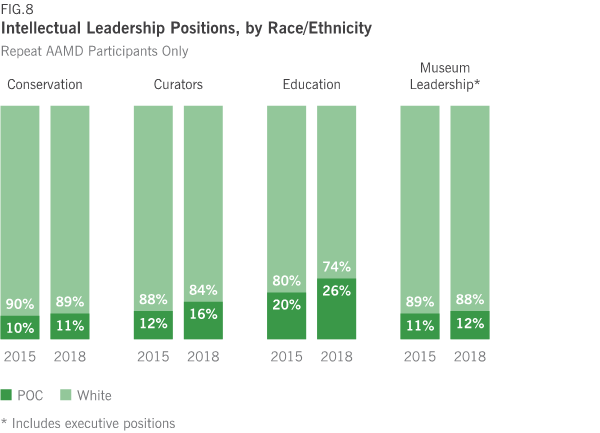 Cycle 3
For this next iteration of the project, we are collecting demographic data from art museums across North America to begin establishing trends in demographic changes that have occurred since 2014. 
In 2018 we received responses from 80 percent of AAMD members, 179 out of 223 museums. Additionally, 153 AAM, non-AAMD members participated, out of a population of 648 – a substantial increase in participation over the first cycle of this project. To reflect societal changes and evolving standards of museum practice, we have made moderate edits to the data collection instrument, and we have broadened our invitation list, in order to gain more relevant insights on the current state of the field. Additionally, we are interested in analyzing how the ongoing pandemic and "The Great Resignation" have influenced museum staffing. To give broader context, we will tie findings from this analysis with what we learn in a forthcoming survey of museum directors. 
Cycle 3 opened on Monday, February 7, and will remain open for at least six weeks to collect 2021 staffing data. The anticipated closing date is Friday, March 18. We expect to publish our findings in summer 2022. 
A huge thank you to the members of our advisory committee and their HR and operations colleagues for all of their support:
American Alliance of Museums

Asian Art Museum

Julia Li

Lia Maksoud

Jay Xu

Association of Art Museum Directors

Cummer Museum of Art

Andrea Barnwell Brownlee

Lisa Kaspar

Institute of American Indian Arts

Nelson-Atkins Museum of Art

Kelly Summers

Julián Zugazagoitia

New Orleans African American Museum

Saint Louis Art Museum

Min Jung Kim

Nancy Martin

Yale Center for British Art