Technology in Higher Education in Prison Programs: Key Findings and Figures
Introduction
In Fall of 2022, Ithaka S+R launched a first-of-its-kind national survey on technology access in higher education in prison programs. The survey asked respondents about student access to technology in their Higher Education in Prison (HEP) program, focusing on four thematic areas: technological devices, learning management systems and software, network connectivity or internet access, and future information technology plans. The survey had a completed response rate of 21 percent (93 of 441) and received responses from a diverse variety of programs from throughout the United States. Below, we've outlined key findings from the survey results.
Key Findings
The majority of programming is still provided fully in-person.
Twenty-four percent of respondents noted that their students do not have access to any technological device.
Across regions, desktop computers are more commonly available for educational purposes than tablets.
Programs whose students use laptops express greater satisfaction with student technology access and use.
Most students cannot use technological devices to access library resources.
Respondents were optimistic that they will be able to increase student access to technology within two years; however, responses were considerably more mixed regarding internet access.
Program Responses by State
Programs operating in 36 states and the District of Columbia responded to the survey. One program operating at a Federal Bureau of Prisons location also responded. Ithaka S+R did not receive completed responses from programs operating in fourteen states.
Technological Devices
Desktop computers remain the most commonly available technological device for higher education in prison programming. Spatial and staffing limitations and competition for access with other programs complicate student access to desktop computers.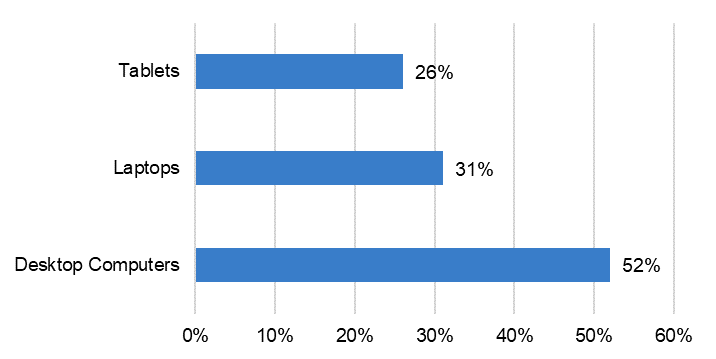 Results emphasize the importance of the quality of student technological access: many students who have access to technology still do not have enough time to complete their coursework on it. As the table below demonstrates, when asked if their students had sufficient technology access to complete their coursework, only programs with laptop access were more likely to select yes (48 percent) than no (34 percent).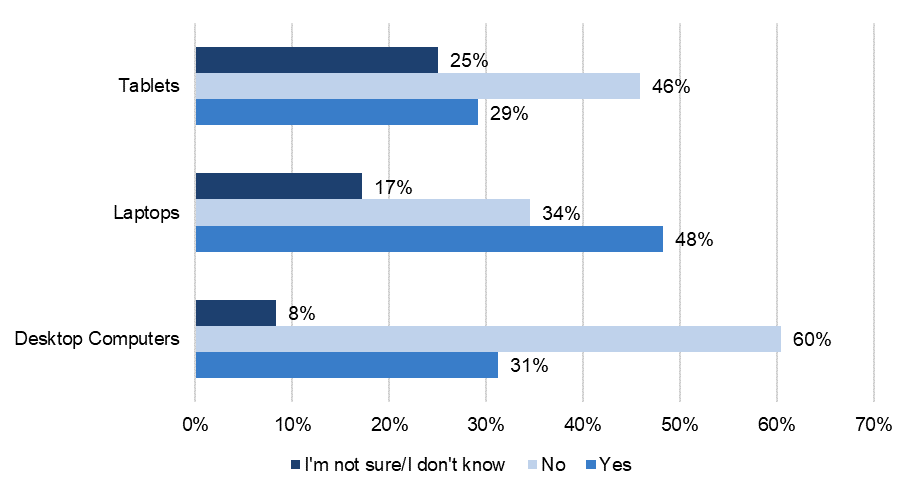 Learning Management Systems and Software
Most HEP programs do not have access to a learning management system that students can use. The majority of respondents (65 percent) indicated that their students and instructors do not have access to a learning management system at all. Canvas was reported as the most used learning management system (48 percent).
Most programs with technology access do not know how frequently software programs can be added to or updated on student devices.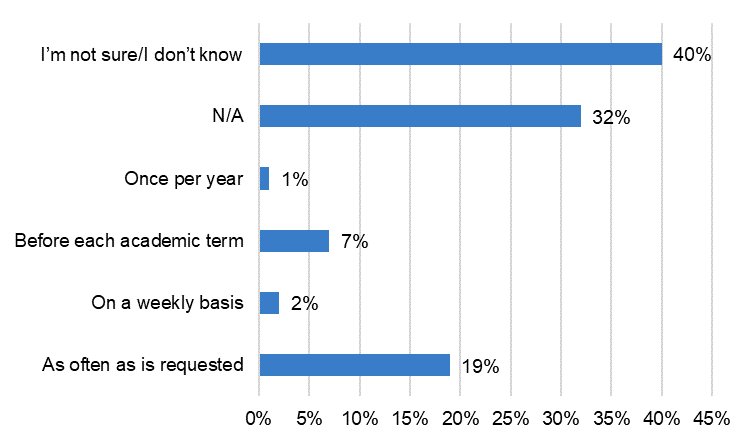 Faculty and staff were as likely to use Zoom to communicate with students or deliver instruction as they were to be unable to use a video conferencing program at all (32 percent).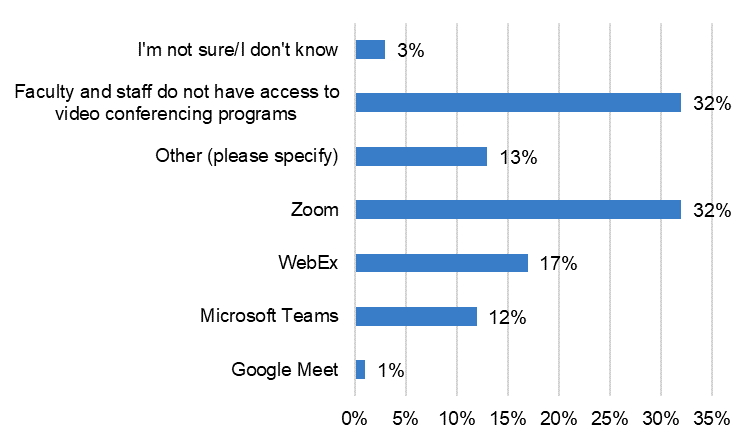 The majority of respondents (58 percent) do not believe students have sufficient access to software programs.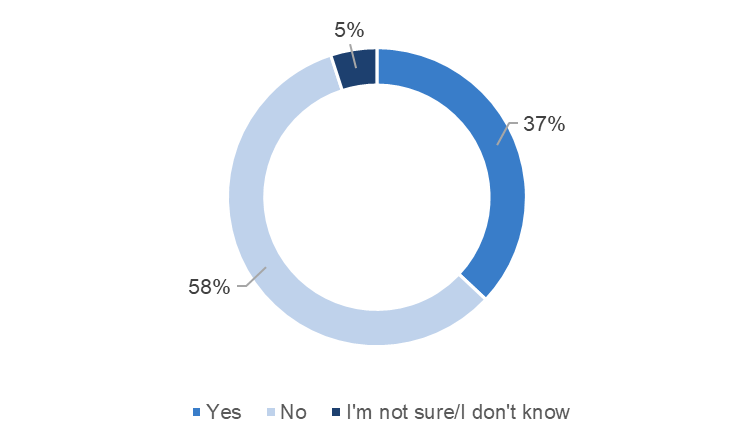 Network Connection and Internet
The majority of students do not have any network access–whether to limited, local, or wide area networks, or to the internet. Survey results suggest that when students can access the network, it is more commonly through desktop computers in a computer lab (20 percent) than via laptops (nine percent) or tablets (nine percent). Only 15 percent of respondents said that their programs used local area or wide area networks. Sixty-six percent noted that "no internet access is available" to their students. Twenty-four percent indicated that their students have internet access to whitelisted websites.
The figures below illustrate states that have at least one program with local or wide are network access and internet access, respectively. States with access are highlighted in blue, states without access are highlighted in black, and states from which we do not have data are highlighted in gray.
LAN/WAN Connection by State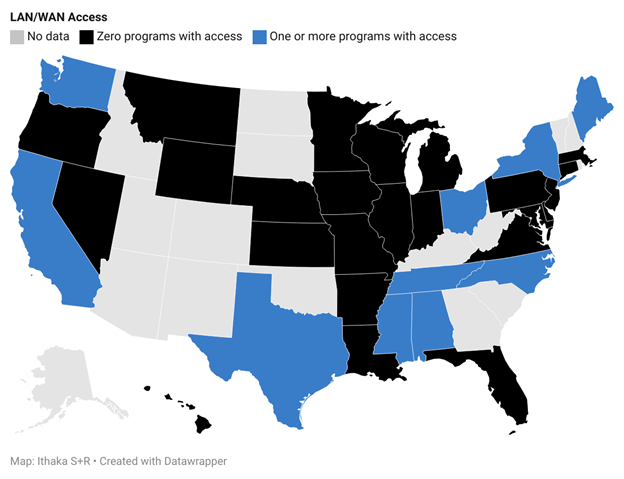 Internet Access by State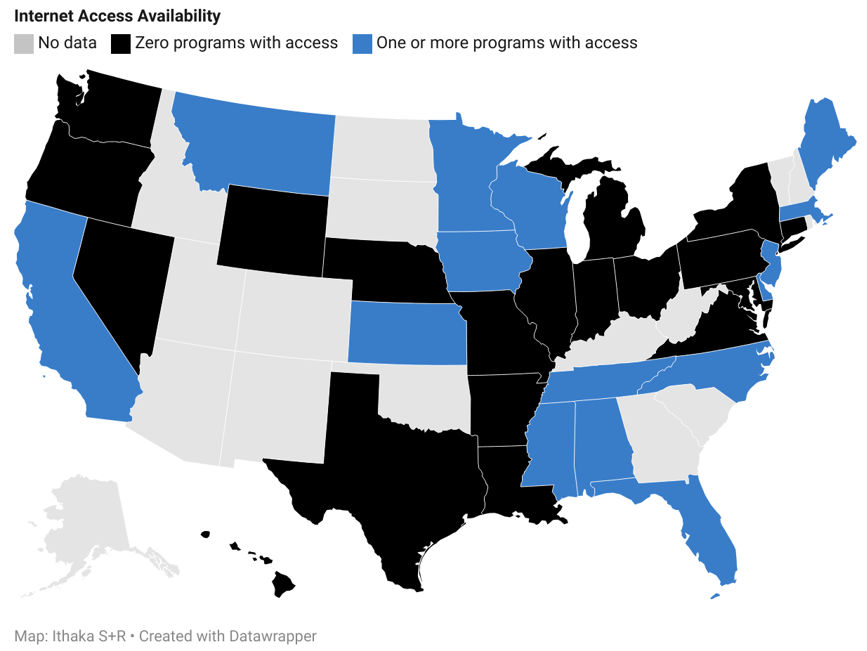 Future Plans
Respondents were optimistic that they would be able to increase or expand access to the technological devices they prioritize.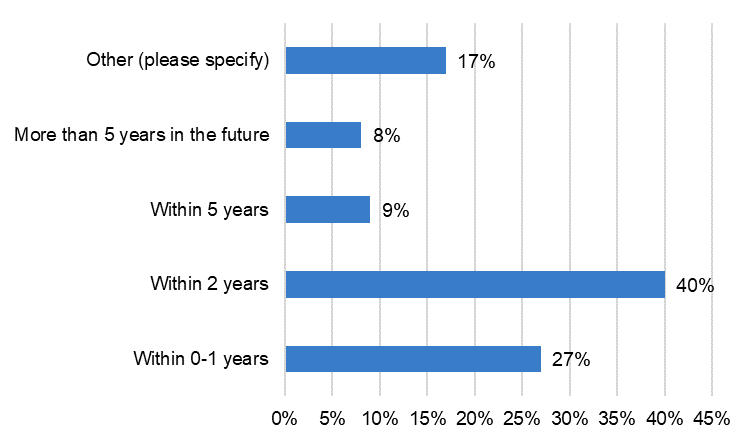 Most HEP programs are prioritizing increasing student access to laptops (58 percent).Laptops appear to be seen as the gold standard in HEP; however, several respondents and individuals in follow-up interviews noted that for laptops to be used to their fullest, students need access to them for extended periods of time, in residential settings where coursework can be completed during quiet hours.
Results were more mixed when the survey asked how soon respondents thought internet access could be implemented or expanded. This reinforces questions about the equity and quality of device access.